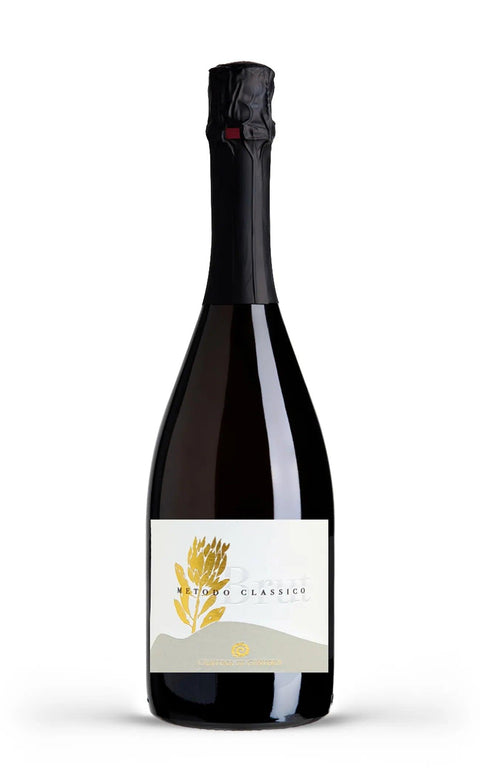 Metodo Classico Brut - Cantina di Custoza
Elegant Complex Fragrant
What do we mean by these definitions? Click HERE to find out!
Like a painter capturing the golden light of sunset on canvas, the Metodo Classico Brut from Cantina di Custoza is an effervescent masterpiece. Produced in the heart of Veneto, this sparkling wine is a harmonious blend of Chardonnay and Pinot Noir. Steel aging enhances its freshness, making it a medium-bodied wine with an elegant structure. On the nose, you'll find notes of white-fleshed fruit and wildflowers, while the palate offers a creamy and lingering sensation. Ideal for special toasts or as an aperitif, it pairs beautifully with seafood appetizers or fresh cheeses.
Denomination: Classic Method
Vintage: NV
Dosage: Brut
Grapes: Chardonnay and Pinot Noir
Region: Veneto (IT), Sommacampagna (VR)
Refinement: Steel
Serving temperature: 4/6°C
Alcohol content: 12% vol.
The Cantina di Custoza, founded in 1968, now has 200 members for about 1000 hectares of vineyards located mainly in the morainic hills south of Lake Garda.
Passing from the vineyard to the table, the wines of Custoza transmit tradition with every sip and best express the territory in which these wines are born and grow. The hard work in the vineyard is enhanced by the use of the most advanced winemaking techniques in the cellar to obtain a unique wine of its kind.