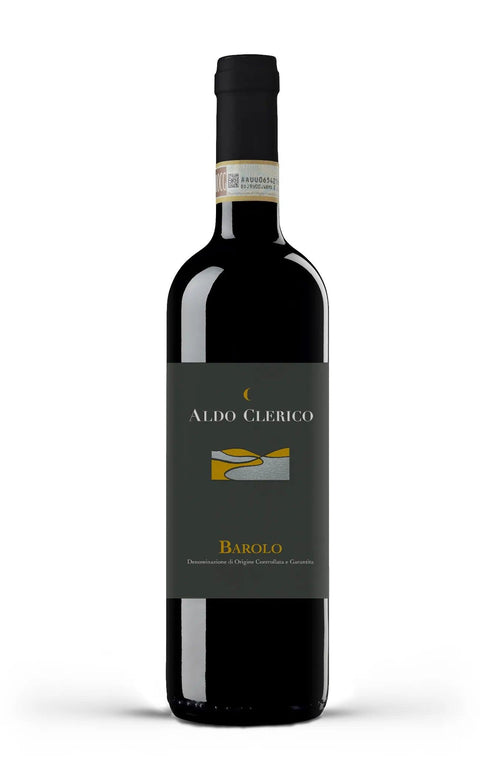 Barolo DOCG 2017 - Aldo Clerico
Complex Elegant Noble
What do we mean by these definitions? Click HERE to find out!
Imagine a curtain lifting on the stage of life, revealing a wine that is the embodiment of passion and art. Introducing Aldo Clerico's Barolo DOCG, a masterpiece born in the prestigious Monforte d'Alba vineyards in the heart of Piedmont. This wine is like an olfactory symphony, with notes of dog rose, cherry, and spices dancing in the air. On the palate, it's an ever-evolving work of art, with layers of red fruit, tobacco, and dark chocolate. French oak aging adds a touch of elegance, while its robust structure suggests significant aging potential. Perfect for special occasions, this Barolo pairs beautifully with elaborate dishes like braised meats and aged cheeses.
Denomination: Barolo DOCG
Vintage: 2017
Dosage: Dry
Grape variety: Nebbiolo
Region: Piedmont (IT), Monforte d'Alba (CN)
Refinement: Barriques and oak barrels
Serving temperature: 16/18°C
Alcohol content: 15% vol.
The Aldo Clerico winery is located in Monforte d'Alba in the heart of Barolo. It was born in 2004 when Aldo Clerico decided to make use of his experience, gained after years of work in the most prestigious wineries of Monforte, by opening his own farm. The hectares owned are 6, mostly located in Monforte d'Alba and a smaller part in Monchiero. The careful management of the vineyard together with the modern winemaking techniques adopted in the cellar give life to fine and quality wines, with an out of the ordinary elegance.