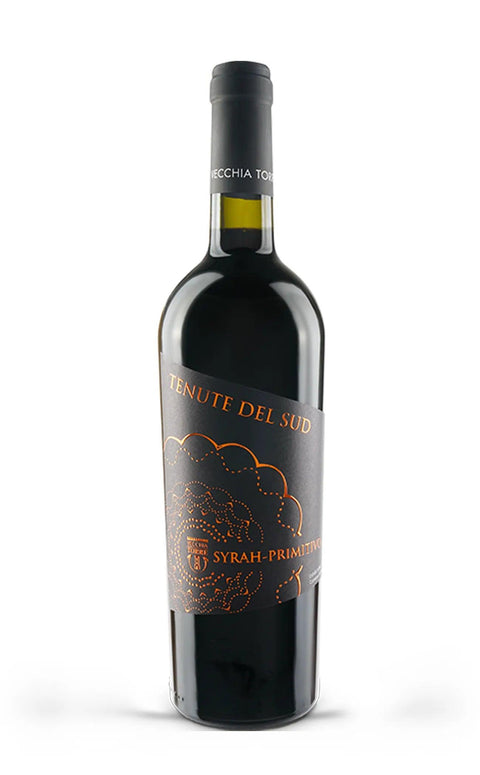 Syrah Primitivo Salento Rosso IGP 2019 - Vecchia Torre
Soft Balanced Fruity
What do we mean by these definitions? Click HERE to find out!
Immerse yourself in the charm of Southern Italy with Cantina Vecchia Torre's Syrah Primitivo Salento. This wine is a harmonious blend of two grape varieties: 80% Syrah and 20% Primitivo. Hailing from the Leverano region in Puglia, this wine pays homage to the land it comes from. At first glance, the color is a deep ruby red that promises intensity. On the nose, the bouquet is an explosion of ripe red fruits like blackberries and plums, enriched by nuances of vanilla and oakwood. In the mouth, the structure is full-bodied, almost like a warm embrace, with soft tannins that meld into a long and persistent finish. This wine is ideal for pairing with robust dishes like roasts and aged cheeses. Let yourself be seduced by its complexity and authenticity.
Denomination: Salento Rosso IGP
Vintage: 2019
Dosage: Dry
Grapes: Syrah and Primitivo
Region: Puglia (IT), Leverano (LE)
Refinement: Large oak barrels
Serving temperature: 16/18°C
Alcohol content: 13% vol.
Cantina Vecchia Torre is one of the leading companies in the Apulian wine scene, it was founded in 1959 and today it can count on 1500 hectares of vineyards conferred by 1100 members.
It all begins with a careful selection of the grapes transferred to the cellar and thanks to modern winemaking and aging techniques, a genuine local wine is obtained, born from the profound respect for traditions and the passion of the people who work to obtain the highest quality possible.