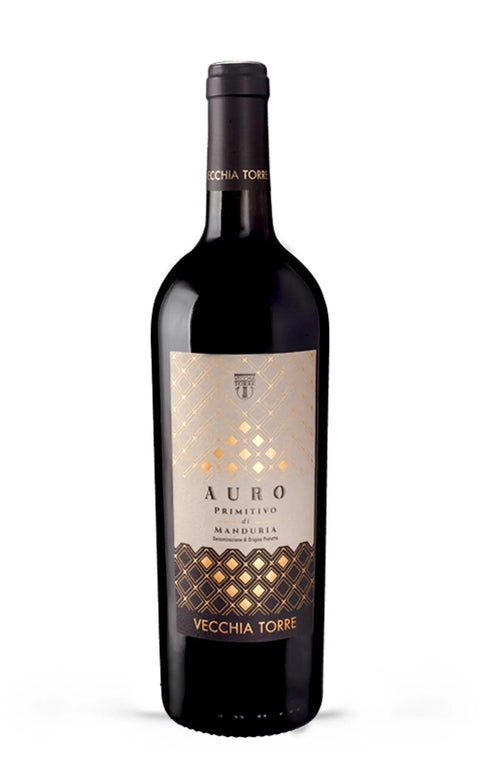 Primitivo di Manduria Auro DOP 2017 - Vecchia Torre
Exuberant Complex Fruity
What do we mean by these definitions? Click HERE to find out!
Immerse yourself in the allure of Primitivo di Manduria Auro, a wine that embodies the essence of Puglia, produced by the renowned Cantina Vecchia Torre. This wine is a pure Primitivo, aged in wooden and steel barrels, giving it a robust and complex structure. At first glance, the wine presents itself with an intense ruby-red color, almost like a prelude to its complexity. On the nose, you'll pick up notes of ripe fruit, spices, and a light touch of vanilla. In the mouth, the wine is an explosion of flavors: red fruits, plums, and a hint of chocolate, all beautifully balanced by a freshness that makes it incredibly drinkable. The aging in barrels adds a touch of elegance, making this wine ideal for special occasions. Pair it with red meats, aged cheeses, or Mediterranean cuisine for an unforgettable gastronomic experience. Discover the magic of Primitivo di Manduria Auro and let yourself be seduced by its irresistible charm.
Denomination: Salento Rosso DOP
Vintage: 2017
Dosage: Dry
Grape variety: Primitive
Region: Puglia (IT), Leverano (LE)
Refinement: Barriques
Serving temperature: 16/18°C
Alcohol content: 14.5% vol.
Cantina Vecchia Torre is one of the leading companies in the Apulian wine scene, it was founded in 1959 and today it can count on 1500 hectares of vineyards conferred by 1100 members.
It all begins with a careful selection of the grapes transferred to the cellar and thanks to modern winemaking and aging techniques, a genuine local wine is obtained, born from the profound respect for traditions and the passion of the people who work to obtain the highest quality possible.