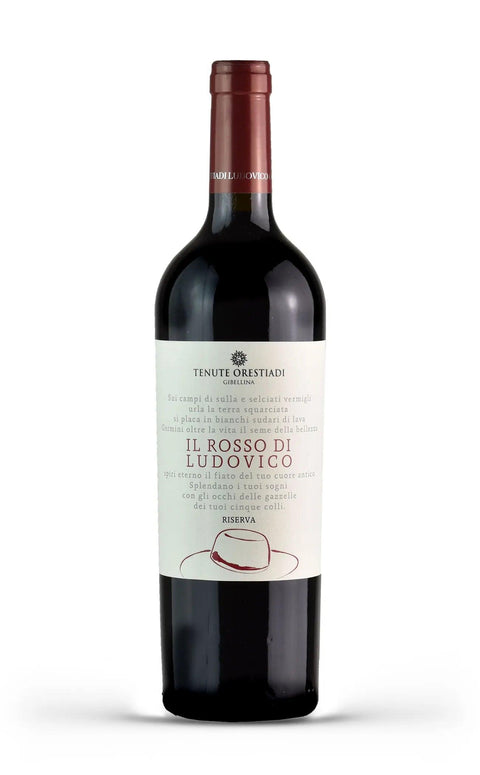 Terre Siciliane Riserva Il Rosso di Ludovico IGT 2017 - Tenute Orestiadi
Spicy Noble Complex
Gold Medal Wine Hunter 93-95.99/100
What do we mean by these definitions? Click HERE to find out!
A wine that embodies the essence of Sicily, Il Rosso di Ludovico is a masterpiece of complexity and refinement. Produced primarily from Nero d'Avola with a touch of Cabernet Sauvignon, this wine is a tribute to the land from which it comes. The wine presents itself with an intense ruby red color, almost as if capturing the warmth of the Sicilian sun in its velvety embrace. On the nose, it's a journey through a garden of ripe black cherries, blueberries, and plums, enriched by nuances of dark chocolate and smoky notes that evoke the forest floor.
On the palate, the wine is robust and smoky, with velvety tannins that offer a complex and balanced structure. Perfect with a meat-lover's pizza or rich, flavorful meat stews.
Denomination: Rosso Riserva Terre Siciliane IGT
Vintage: 2017
Dosage: Dry
Grapes: Nero d'Avola and Cabernet Sauvignon
Region: Sicily (IT), Gibellina (TP)
Refinement: Steel and French oak barriques
Serving temperature: 16/18°C
Alcohol content: 14.5% vol.
Tenute Orestiadi were born in 2008 in the heart of the Belìce Valley in Ghibellina in Sicily, a place where the scents and colors of the Mediterranean meet myth and art. The terroir here is unique, different combinations of soils, microclimates and altitudes give rise to wines that are the result of love and dedication.
Red, white and black earth meet giving the right nuance for each native varietal and are subsequently enhanced to the maximum by skilled hands and high winemaking technology.