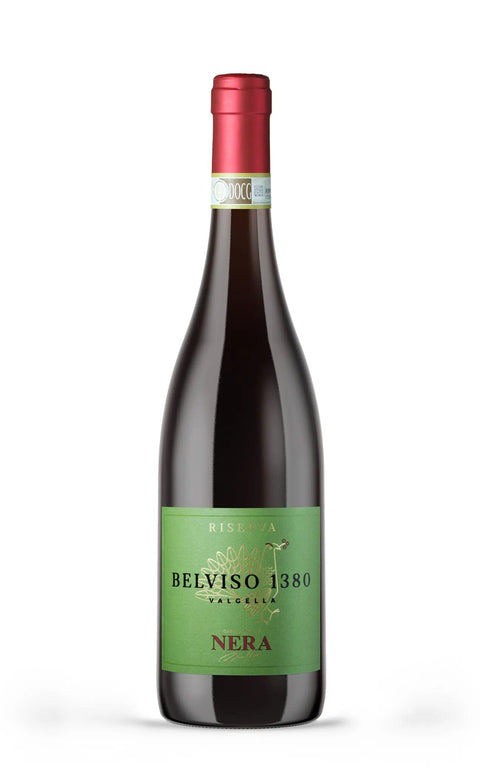 Valtellina Superiore Valgella Belviso DOCG 2018 - Pietro Nera
Elegant Noble Spicy
What do we mean by these definitions? Click HERE to find out!
magine yourself in a mountainous landscape, where the air is pure and vineyards stretch like a green carpet under the blue sky. This is where Pietro Nera's Valtellina Superiore Valgella Belviso DOCG is born, a wine that embodies the essence of this unique terroir. Made exclusively from Nebbiolo grapes, this wine is a hymn to tradition and excellence. Visually, the wine presents itself with a deep ruby red color, almost as if capturing the energy of the setting sun. On the nose, you perceive notes of ripe red fruits, sweet spices, and a hint of alpine herbs, evoking the freshness of the surrounding mountains. On the palate, the magic continues: refined tannins accompany flavors of Marasca cherry, crushed raspberry, and a touch of coffee and star anise. This wine is ideal for savoring on special occasions, perhaps in the company of grilled red meats or aged cheeses. It is a wine that not only satisfies the palate but also the soul, thanks to its complexity and depth.
Denomination: Valtellina Superiore DOCG
Vintage: 2018
Dosage: Dry
Grape variety: Nebbiolo - Chiavennasca
Region: Lombardy (IT), Chiuro (SO)
Refinement: Oak barrels
Serving temperature: 16/18°C
Alcohol content: 13% vol.
With over 70 years of history, the Pietro Nera winery is one of the most important and prestigious wineries in Valtellina. Work in the vineyard is one of the main factors for the creation of great wines and in Valtellina there is so much work, so much so that it can be defined as heroic viticulture. Decades of tradition, combined with rigorous attention in the cellar, lead to an extraordinary result: Pietro Nera's wines.