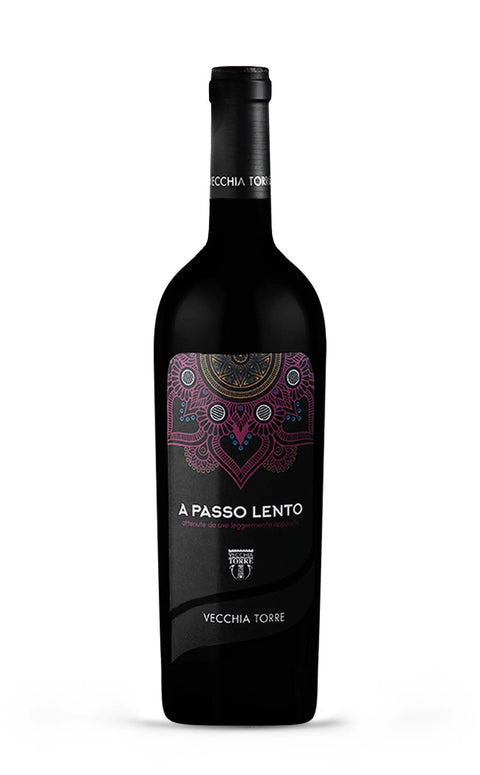 Salento Rosso A Passo Lento IGP 2019 - Vecchia Torre
Elegant Full-bodied Fruity
What do we mean by these definitions? Click HERE to find out!
The Salento Rosso A Passo Lento IGP by Vecchia Torre is a wine that enchants and envelops the palate with its softness and harmony. Produced in the heart of Salento, this wine is a blend of Negroamaro, the symbolic grape of this land, and a small addition of Syrah. Its uniqueness lies in the fact that the grapes are left to overripe on the vine for about ten days after the normal harvesting period. The intense purple-red color heralds aromas of ripe fruit and carob, making it a guaranteed success for lovers of significant wines. Ideal for those looking for full-bodied and structured wines, it pairs wonderfully with long-aged cheeses accompanied by honey and with main courses of roast and braised meat.
Denomination: Salento Rosso IGP
Vintage: 2019
Dosage: Dry
Grapes: Negroamaro and Syrah
Region: Puglia (IT), Leverano (LE)
Refinement: Barriques
Serving temperature: 16/18°C
Alcohol content: 13.5% vol.
Cantina Vecchia Torre is one of the leading companies in the Apulian wine scene, it was founded in 1959 and today it can count on 1500 hectares of vineyards conferred by 1100 members.
It all begins with a careful selection of the grapes transferred to the cellar and thanks to modern winemaking and aging techniques, a genuine local wine is obtained, born from the profound respect for traditions and the passion of the people who work to obtain the highest quality possible.