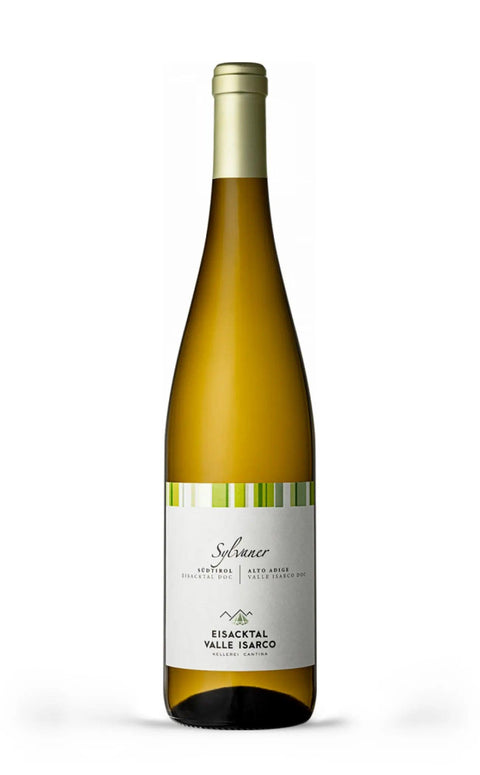 Sylvaner Sudtirol DOC 2022 - Isarco
Complex Exuberant Fruity
What do we mean by these definitions? Click HERE to find out!
Imagine yourself in a secret garden, where each flower is an explosion of scent and each leaf a work of art. The Sylvaner Sudtirol DOC - Isarco is the wine that embodies this experience. Produced in the alpine peaks of the Isarco Valley, this wine is like a fresh, enveloping hug. Its golden hue pays homage to the sun that kisses the vineyards, while its olfactory profile is a mosaic of floral and fruity aromas. On the palate, it's like a waltz of flavors dancing in harmony, leaving a sensation of freshness and complexity. Ideal for pairing with fish dishes or for an outdoor picnic, this wine is an invitation to discover the hidden beauty of nature.
Denomination: Alto Adige DOC
Vintage: 2022
Dosage: Dry
Grape variety: Sylvaner
Region: Trentino Alto Adige (IT), Chiusa (BZ)
Refinement: Steel
Serving temperature: 8/10°C
Alcohol content: 13% vol.
The Valle Isarco winery is the youngest and smallest cooperative winery in South Tyrol and the northernmost in Italy. Their philosophy is to produce wines rich in minerality, fruitiness and uncompromising elegance. The vines grow on terraces between 250 and 1,000 meters above sea level, this means that the work is tiring and often only manual. However, working in harmony with nature and respecting scarce natural resources is crucial. Thanks to the altitude and the late harvest, the vines can take advantage of many autumn days with still high daytime temperatures and cool nights, optimal conditions for obtaining fresh, fruity and mineral wines. The winery is famous for its excellent Sylvaner, Kerner, Müller Thurgau and Grüner Veltliner and are recognizable thanks to their stylistic profile and unmistakable acidity structure and their extremely marked typicity. Quality is fundamental for the Valle Isarco winery and knows no compromises.