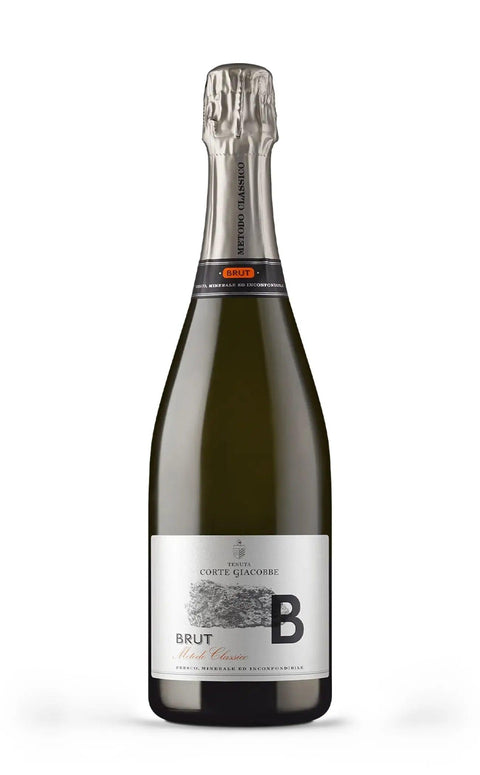 Metodo Classico Brut - Dal Cero
Exuberant Complex Mineral
What do we mean by these definitions? Click HERE to find out!
The Brut Corte Giacobbe encapsulates the Dal Cero style: fresh, intriguing, mineral, and unmistakable on the palate. A blend of Durella and Chardonnay grapes from the hillside vineyards of Roncà, the wine undergoes vinification with whole-cluster pressing and controlled-temperature fermentation at 13°C in steel tanks. Maturation takes place in stainless steel with once-weekly bâtonnage of the fine lees, followed by secondary fermentation in the bottle with cultured yeasts. The entire process requires a minimum of 24-36 months. The wine presents a dense, leisurely bead that lends luminosity to its intense straw-yellow color tinged with gold. On the nose, it offers vibrant impressions of tropical fruit, followed by Asian spices and an intriguing hint of sulfur. The palate is impressively tangy, crisp, and fruit-rich, with a note of citron. The finish concludes with a touch of earthy minerality. Perfect as an exceptional aperitif, it also pairs wonderfully with antipasti and first courses of fish and shellfish.
Denomination: Classic Method
Vintage: NV
Dosage: Brut
Grapes: Durella and Chardonnay
Region: Veneto (IT), Roncà (VR)
Refinement: 24/36 months on the lees
Serving temperature: 6/7°C
Alcohol content: 12.5% ​​vol.
The Dal Cero Family winery has a history that begins in 1934 when Augusto Dal Cero founded the company by buying the first lands in the Crocetta and Calvarina area. After having fought in the war, Augusto returned and decided to devote himself to viticulture on those lands that were difficult to work, but very particular. Subsequently, the sons of Augusto, Dario and Giuseppe, broadened the horizon of their father's dream and also dedicated themselves to the production of great red wines in Tuscany. Today, the third generation of the Dal Cero family - Davide, Nico and Francesca - continues to carry on the winemaking tradition with great passion, respecting the values ​​of the land, sustainability and the direct relationship with the soil. The Dal Cero winery has a deep knowledge of the land and its secrets, which it transforms into unique and distinctive wines, testifying to the continuity of the family work through the generations. Their wines represent the perfect synthesis between tradition and innovation, they are the result of a passion that comes from afar and has evolved over time, with eyes always focused on the future.