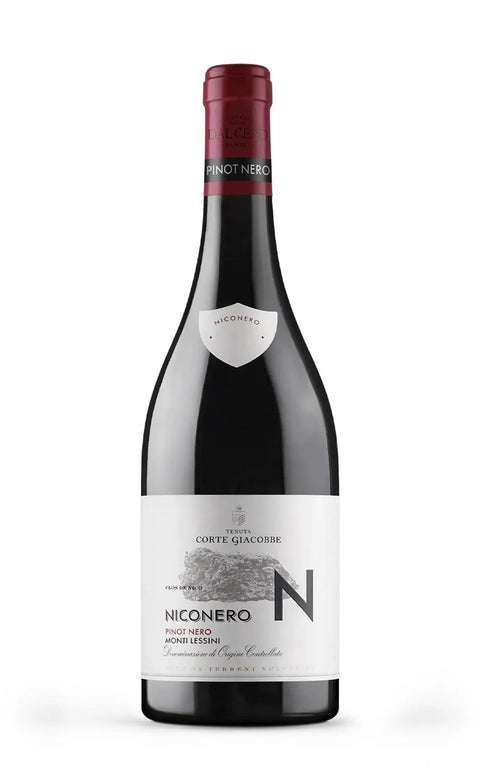 Pinot Nero Monti Lessini DOC Niconero 2019 - Dal Cero
Spicy Mineral Noble
What do we mean by these definitions? Click HERE to find out!
Niconero is the result of Nico's deep passion for Pinot Noir and the distinctiveness of the volcanic soils from which it originates. This marriage between passion and tradition can only yield a truly special wine. From its limpid ruby-red color, Niconero promises a complex bouquet of wild red berries, orange peel, dried rose petals, mentholated talc, rhubarb, black licorice, sandalwood, medicinal herbs, sweet spices, caramelized almonds, incense, concluding on a note of pine resin and balsam. In the mouth, it is succulent, crisp, and vibrant, with all its fruit on a luscious display. Every sip of this intriguing and elegant Pinot Noir releases a torrent of sensations, testifying to its being purely and uniquely Pinot Noir. Impeccable, forthright, and minerally, it vividly embodies the volcanic earth into which it sinks its roots.
Denomination: Monti Lessini DOC
Vintage: 2019
Dosage: Dry
Grape variety: Pinot Noir
Region: Veneto (IT), Roncà (VR)
Refinement: French oak Barriques and Tonneaux
Serving temperature: 16/18°C
Alcohol content: 14% vol.
The Dal Cero Family winery has a history that begins in 1934 when Augusto Dal Cero founded the company by buying the first lands in the Crocetta and Calvarina area. After having fought in the war, Augusto returned and decided to devote himself to viticulture on those lands that were difficult to work, but very particular. Subsequently, the sons of Augusto, Dario and Giuseppe, broadened the horizon of their father's dream and also dedicated themselves to the production of great red wines in Tuscany. Today, the third generation of the Dal Cero family - Davide, Nico and Francesca - continues to carry on the winemaking tradition with great passion, respecting the values ​​of the land, sustainability and the direct relationship with the soil. The Dal Cero winery has a deep knowledge of the land and its secrets, which it transforms into unique and distinctive wines, testifying to the continuity of the family work through the generations. Their wines represent the perfect synthesis between tradition and innovation, they are the result of a passion that comes from afar and has evolved over time, with eyes always focused on the future.