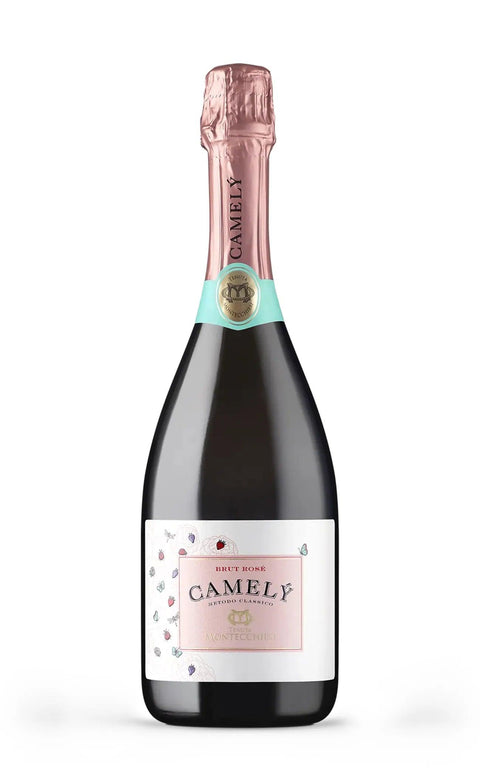 Metodo Classico Camely' Brut Rosè - Dal Cero
Elegant Complex Fruity
What do we mean by these definitions? Click HERE to find out!
Camely by Dal Cero is a Metodo Classico sparkling wine made from Syrah grapes with a small touch of Vermentino. An explosion of fruit and colors, just as the label suggests. Maturation on the lees for around thirty months lends complexity and is complemented by a decisive and refreshing perlage. The vinification involves very gentle pressing of the clusters to obtain high-quality free-run must, which then ferments in steel tanks at a controlled temperature. Maturation takes place in stainless steel with once-weekly bâtonnage of the fine lees, followed by secondary fermentation in the bottle with cultured yeasts. The entire process requires a minimum of 24-36 months. On the palate, the wine offers the fresh-picked pulpiness of wild berry fruit, beautifully complemented by a pronounced bead of pinpoint bubbles, crisp and refreshing. Yeasty bread and a remarkably delicate florality infuse the progression into a tangy, full finish that draws out the pleasure. Perfect with antipasti of cold cuts and a wide range of fish and shellfish dishes. Utterly delicious with traditional soups such as baccalà all'acqua pazza.
Denomination: Classic Method
Vintage: NV
Dosage: Brut
Grapes: Syrah and Vermentino
Region: Veneto (IT), Roncà (VR)
Refinement: 24/36 months on the lees
Serving temperature: 6/7°C
Alcohol content: 12.5% ​​vol.
The Dal Cero Family winery has a history that begins in 1934 when Augusto Dal Cero founded the company by buying the first lands in the Crocetta and Calvarina area. After having fought in the war, Augusto returned and decided to devote himself to viticulture on those lands that were difficult to work, but very particular. Subsequently, the sons of Augusto, Dario and Giuseppe, broadened the horizon of their father's dream and also dedicated themselves to the production of great red wines in Tuscany. Today, the third generation of the Dal Cero family - Davide, Nico and Francesca - continues to carry on the winemaking tradition with great passion, respecting the values ​​of the land, sustainability and the direct relationship with the soil. The Dal Cero winery has a deep knowledge of the land and its secrets, which it transforms into unique and distinctive wines, testifying to the continuity of the family work through the generations. Their wines represent the perfect synthesis between tradition and innovation, they are the result of a passion that comes from afar and has evolved over time, with eyes always focused on the future.