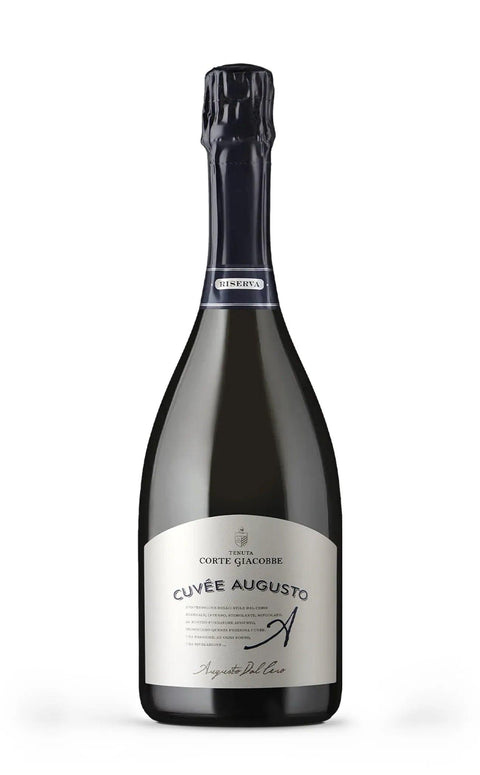 Lessini Durello DOC Augusto Riserva Dosaggio Zero 2015 Magnum - Dal Cero
Noble Mineral Fragrant
What do we mean by these definitions? Click HERE to find out!
Dedicated to the company's founder, the Lessini Durello DOC Augusto Riserva Dosaggio Zero by Dal Cero is a testament to the Dal Cero brothers' deep passion for the Metodo Classico. Made from the notably acidic Durella grape, this wine undergoes extensive maturation to be "tamed." It matures in large Austrian oak ovals and 225l French barrels, and includes a small amount of older reserve wine. After disgorgement, the wine ages for an additional six months or so. The result is a sparkling wine with a fine, long, and persistent bubble that embodies Dal Cero's unique, mineral style. Each sip is a revelation, a sensory experience marked by its crispness and minerality. Perfectly paired with aged cheeses, fish, and shellfish dishes, this wine is a passion, a revelation with every sip.
Denomination: Lessini Durello DOC
Vintage: 2015
Dosage: Zero
Grape variety: Durella
Region: Veneto (IT), Roncà (VR)
Aging: 50 months on the lees - oak barrels
Serving temperature: 6/7°C
Alcohol content: 12.5% ​​vol.
The Dal Cero Family winery has a history that begins in 1934 when Augusto Dal Cero founded the company by buying the first lands in the Crocetta and Calvarina area. After having fought in the war, Augusto returned and decided to devote himself to viticulture on those lands that were difficult to work, but very particular. Subsequently, the sons of Augusto, Dario and Giuseppe, broadened the horizon of their father's dream and also dedicated themselves to the production of great red wines in Tuscany. Today, the third generation of the Dal Cero family - Davide, Nico and Francesca - continues to carry on the winemaking tradition with great passion, respecting the values ​​of the land, sustainability and the direct relationship with the soil. The Dal Cero winery has a deep knowledge of the land and its secrets, which it transforms into unique and distinctive wines, testifying to the continuity of the family work through the generations. Their wines represent the perfect synthesis between tradition and innovation, they are the result of a passion that comes from afar and has evolved over time, with eyes always focused on the future.