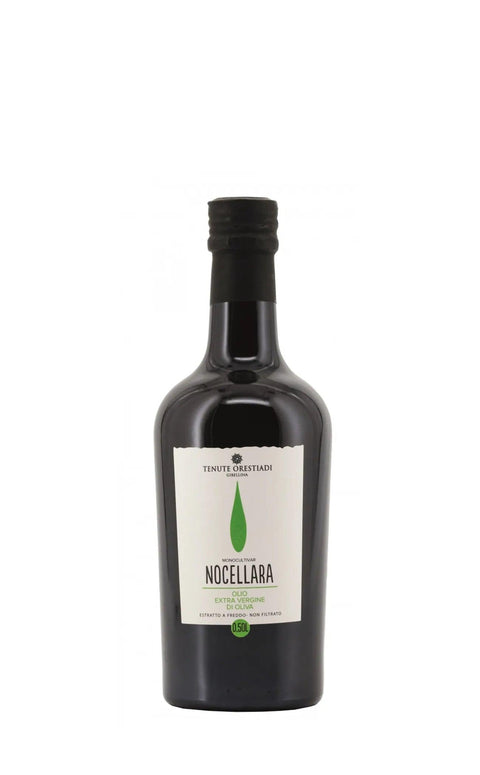 Olio Extravergine di Oliva Nocellara (500ml) - Tenute Orestiadi
Aromatic Elegant Soft
What do we mean by these definitions? Click HERE to find out!
Produced in the sunny lands of Sicily, specifically in Gibellina, this oil is a concentrate of fragrances and flavors that only the Nocellara variety can offer. With an intense green color and golden reflections, the oil presents itself as an olfactory embrace of fresh grass, tomato, and artichoke. On the palate, its structure is medium-bodied, with notes of bitter almond and a slight hint of spiciness. This oil is highly digestible and rich in nutritional properties, making it ideal for those who follow a healthy and genuine diet, and particularly suitable for children's growth. Perfect for enhancing fresh salads, meats, and fish, it is the ingredient that cannot be missing for a meal focused on quality and well-being.
Denomination: Nocellara Extra Virgin Olive Oil
Vintage: Harvest 2021/2022
Dosage:-
Variety: Nocellara
Region: Sicily (IT), Gibellina (TP)
Orestiadi extra virgin olive oil is a unique oil of its kind with a fragrant flavor that is recommended to be consumed raw, thus enhancing the different qualities of the food. It is also possible to use it as a condiment for new salads or in the use of meat or fish. It is a highly digestible oil, with high nutritional properties, also adopted for those who follow a healthy and genuine diet and indicated for the growth of children.