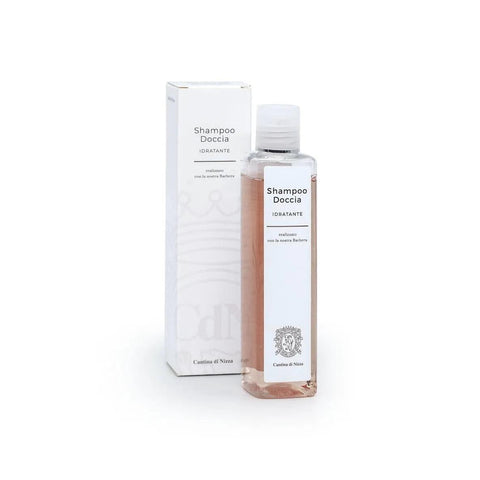 Shower Shampoo 200ml - Cantina di Nizza
What do we mean by these definitions? Click HERE to find out!
Extremely delicate, suitable even for the most sensitive skin. Made with the "In Origin" Organic Barbera from the Cantina di Nizza. The shampoo-shower has been formulated with safe, non-aggressive excipients and is also aimed at those subjects with morphologically sensitive skin or sensitized by the use of unsuitable detergents. Our shampoo-shower meets these requirements and can be used for both the bath and the shower; its use is recommended when washing must be frequent, for various reasons: intense sporting activity, particularly dirty work environments, etc. The pH is acidic, in compliance with the physiological characteristics. Its balanced composition facilitates the restoration of normality in case of redness and leaves the skin velvety and supple. The use of red wine as it is completes the line treatment against oxidative damage suffered during the day; it also deeply nourishes the hair bulb, keeping it in good condition and strengthening the hair. Substances that provide a balm effect have also been included in the formulation: these are raw materials that by reducing electrostatic charges allow greater combability and give shine to the hair without weighing it down. The fragrance is delicate and does not linger after rinsing.