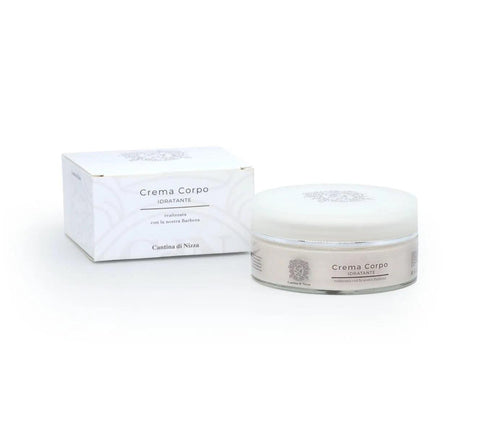 Moisturizing Body Cream 200ml - Cantina di Nizza
What do we mean by these definitions? Click HERE to find out!
With a remarkable emollient, firming and moisturizing power. Made with the "In Origin" Organic Barbera from the Cantina di Nizza. Born from the need to adequately treat the skin after a bath or shower, this cream has a remarkable emollient and firming power; however, unlike common body emulsions, it is not greasy or weighs down the epidermis, thus leaving the pleasant sensation of cleanliness acquired with cleansing. The skin needs to restore its physiological balance altered by the use of detergents for the bathroom, especially in terms of hydration, acidity and lipid requirements. This consistent cream, with a moderately acidic pH, contains perfectly compatible skin-related lipids with a high degree of emollience. The phenolic compounds present in the Organic Barbera "in Origine", used here, exhibit a synergistic behavior in their ability to radical scavenge when mixed. the distilled rose water also helps to keep the skin hydrated and firm. A fresh and light fragrance completes the formulation picture.