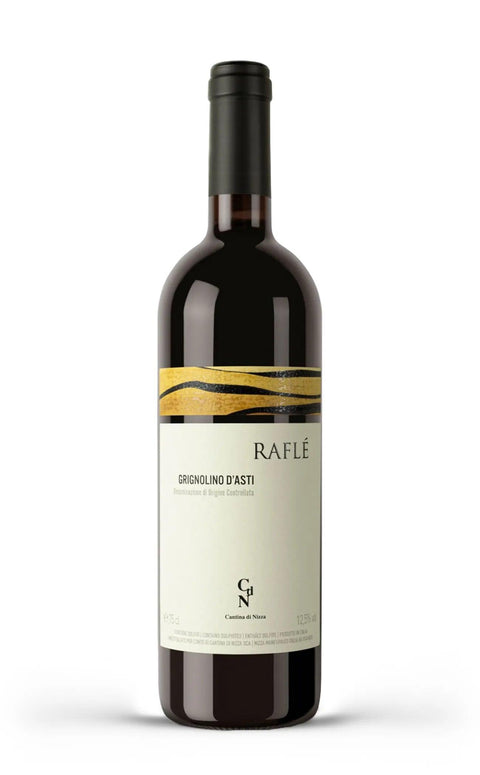 Grignolino d'Asti DOC Raflè 2021 - Cantina di Nizza
Balanced Fruity Spicy
What do we mean by these definitions? Click HERE to find out!
Originating from the vineyards of Nizza Monferrato in the heart of Piedmont, this wine is an ode to the land it comes from. The winemaking takes place in steel, preserving the freshness of the Grignolino grape.
Visually, the wine presents itself with a light red color, enriched by orange reflections that dance in the light. On the nose, it's a floral bouquet with light notes of cherry, like a delicate olfactory haiku. On the palate, the wine is fine and dry, with elegant tannins that caress the palate like a summer breeze. For a complete culinary experience, pair this wine with light dishes such as salads, pastas, risottos or fresh cheeses or chicken. It's the ideal companion for a summer outdoor dinner or a countryside picnic.
Denomination: Grignolino d'Asti DOC
Vintage: 2021
Dosage: Dry
Grape variety: Grignolino
Region: Piedmont (IT), Nizza Monferrato (AT)
Aging: Steel
Serving temperature: 16/18°C
Alcohol content: 13% vol.
Founded in 1955, the Cantina di Nizza is made up of 200 members for 600 hectares of vineyards located on the hills around Nizza Monferrato. The aim of the winery is to best transform the fruit of the sacrifices of its members into wines capable of satisfying every palate: from the fresh Barbera to its majesty the Nizza. The large and unique "heritage" of vineyards and the careful choice of the grapes supplied, together with careful and modern winemaking, give life to unique wines that speak of the territory.