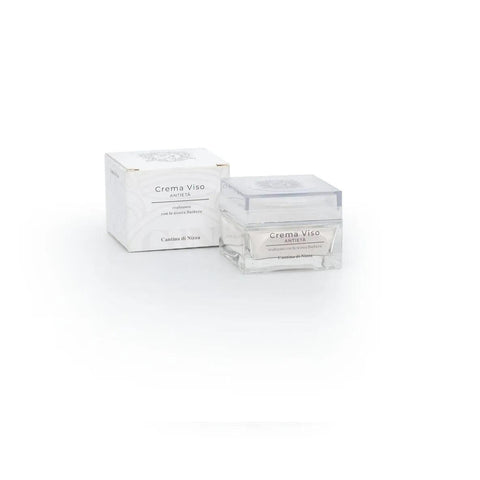 Anti-aging Face Cream 50ml - Cantina di Nizza
What do we mean by these definitions? Click HERE to find out!
"Fights wrinkles by regenerating skin and face". Made with organic Barbera "In origine" from the Cantina di Nizza. To combat wrinkles, constant prevention is required and therefore it is necessary to intervene in time, as long as the skin is in excellent condition, to preserve it as it is. The approach to anti-wrinkle treatment with the continuous use of this highly effective cream allows you to prevent the onset of wrinkles, smooth out wrinkles with a progressive regenerating action that helps reduce their appearance and prevent them from becoming more evident. All this is done thanks to the presence of natural ingredients such as Ginseng extract (Panax ginseng CA Meyer) in "phytosomed" form, i.e. linked to phospholipids which allow a slow release (therefore the substance acts longer over time) and, thanks to the affinity of the membrane, more available even in the deepest districts of the skin. This effect is enhanced by the presence of Water Liposomes which, by the same mechanism, deeply quench the skin of the face marked by wrinkles, making it immediately more elastic and youthful. The antioxidant activity of Vitamin E, present in the form of tocopheryl acetate, allows it to perform an anti-radical action and, together with Vitamin A (retinyl palmitate), to carry out a preventive effect in the formation of wrinkles due to harmful oxidative phenomena. Everything works in synergy with our organic Barbera "In Origine" contained here in high concentrations. Shea Butter has an emollient and protective action. The basic components give the cream a glossy appearance, a pleasant softness to the touch and remarkable emollient and normalizing properties.