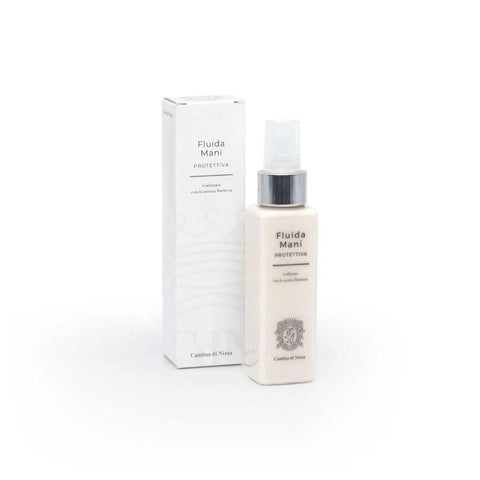 Fluid Hand Cream 100ml - Cantina di Nizza
What do we mean by these definitions? Click HERE to find out!
It protects the hands and gives instant softness. Made with the "In Origine" Organic Barbera from the Cantina di Nizza.
Well-groomed hands denote respect for one's body and consideration for oneself. This is why it is necessary to give them daily attention. This barrier cream is not a simple hand and foot cream, but a truly highly effective cosmetic treatment. It has a remarkable protective action for the hands, especially when they are exposed to intense cold, wind, prolonged contact with detergents or irritating substances. It is emollient thanks to the high quantity of Extra Virgin Olive Oil, without however being greasy; it is readily absorbed and therefore allows you to carry out any activity, even immediately after application. It contains a special substance, Allantoin, with a high healing power, useful in the presence of cracks, abrasions and skin micro-lesions also in other parts of the body (feet, elbows, etc.). The humectant action is guaranteed by Glycerin, present in the right quantity which moisturizes without irritating, while Shea Butter has a protective effect against the external environment. Finally, the "In Origine" Organic Barbera guarantees the right amount of polyphenols to the epidermis. By virtue of the remarkable healing and protective properties, it is very suitable for application on the feet, especially if chapped or reddened.