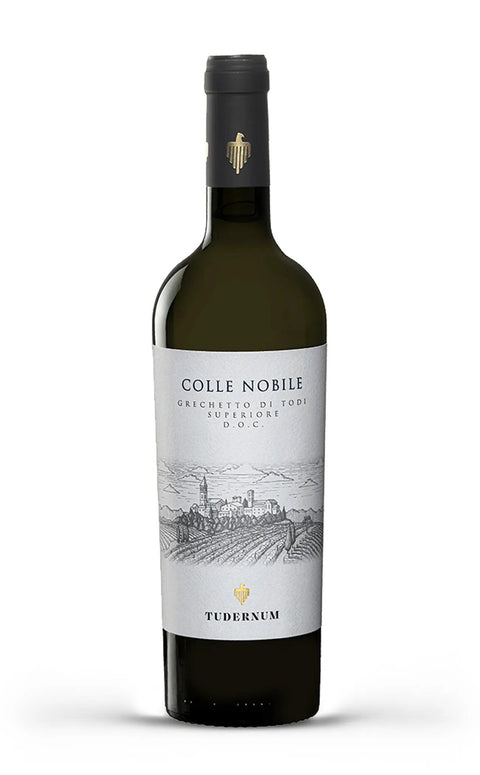 Grechetto di Todi Superiore Colle Nobile DOC 2019 - Cantina Tudernum
Complex Noble Mineral
What do we mean by these definitions? Click HERE to find out!
The Grechetto di Todi Superiore Colle Nobile DOC by Tudernum is a white wine that embodies the quintessence of Umbrian viticulture. Produced through traditional methods, this wine pays homage to the land it comes from. Visually, it boasts an intense straw-yellow color, almost like a summer sunset on a clear day. On the nose, it offers an olfactory bouquet ranging from tropical fruits to white flowers, with a slight hint of almond. On the palate, it's an explosion of flavors from sun-ripened melon to mineral notes reminiscent of damp earth.The wood refinement gave body to the wine that is decidedly structured and complex. Ideal for savoring on a summer evening, perhaps accompanied by a fresh seafood salad or a grilled fish dish.
Denomination: Grechetto di Todi Superiore DOC
Vintage: 2019
Dosage: Dry
Grape variety: Grechetto di Todi
Region: Umbria (IT), Todi (PG)
Refinement: Oak barrels
Serving temperature: 8/10°C
Alcohol content: 14% vol.
The Tudernum Winery was founded in 1958 with the intention of joining the forces of various winemakers to make wine and market their products. From the initial few hectares there are now about 350 hectares of vineyard. The winery is located in Todi, and the great variety of vineyards makes it possible to offer both Grechetto di Todi and Sagrantino di Montefalco. The company philosophy aims to combine the experience and the winemaking tradition of the area, with the use of modern technologies capable of making the most of the cellar's production. The result is a genuine local wine of excellent quality at a fair price.