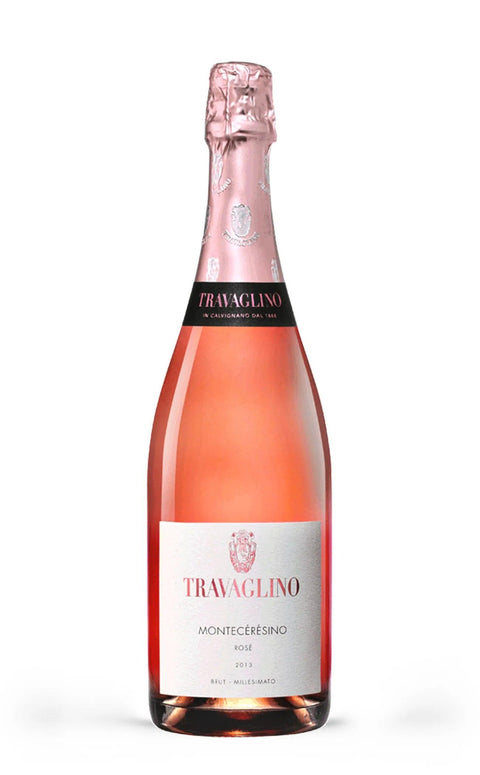 Metodo Classico Monteceresino Rosè Brut Oltrepò Pavese DOCG 2014 - Travaglino
Fragrant Noble Fruity
What do we mean by these definitions? Click HERE to find out!
The Metodo Classico Monteceresino Rosè Brut Oltrepò Pavese DOCG by Tenuta Travaglino is a wine of rare elegance, made entirely from Pinot Noir grapes. The Monte Cérésino vineyard, situated at 350 meters above sea level, offers a clay-limestone soil, ideal for the growth of these grapes. The winemaking process involves rosé vinification with a brief cold maceration and soft pressing. The bottle aging on the yeasts lasts at least 24 months, giving the wine remarkable structure and acidity. On the nose, the wine releases aromas of wild strawberry and cherry, reminiscent of the original grape. This wine pairs beautifully with starters and grilled fish, also excelling with shellfish and fish carpaccio.
Denomination: Oltrepo' Pavese Classic Method DOCG
Vintage: 2014
Dosage: Brut
Grape variety: Pinot Noir
Region: Lombardy (IT), Calvignano (PV)
Refinement: 24 months
Serving temperature: 4/6°C
Alcohol content: 12.5% ​​vol.
Tenuta Travaglino is one of the most historic companies in Oltrepo' Pavese which has its origins in the Middle Ages and can currently count up to 80 hectares of cultivated vineyards on the 300 hectares of property. Tradition and history are the watchwords of the Comi family which for five generations in Calvignano has been trying to bring Pinot Noir and Riesling, heritage of Oltrepo' Pavese, to the highest levels.