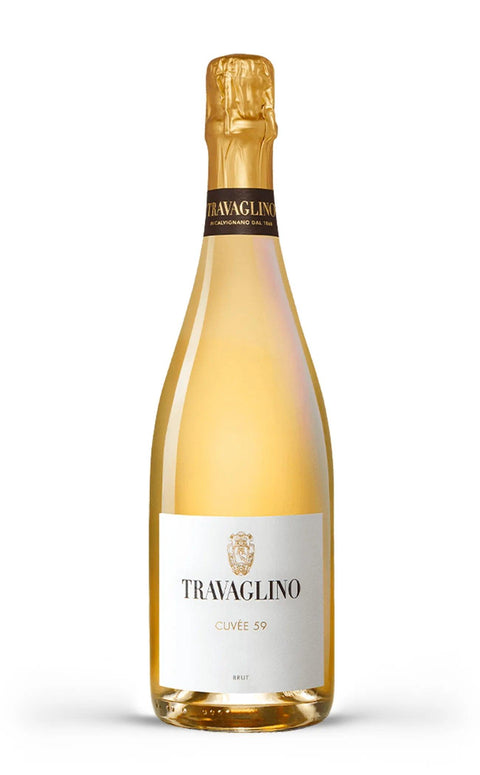 Metodo Classico Oltrepò Pavese Brut Cuvèe 59 DOCG - Travaglino
Elegant Fragrant Fruity
What do we mean by these definitions? Click HERE to find out!
Discover the Metodo Classico Oltrepò Pavese Brut Cuvèe 59 DOCG by Travaglino, a sparkling wine that embodies elegance and complexity. Produced from a skillful blend of Pinot Noir (80%) and Chardonnay (20%), this wine hails from the Vigna del Portico vineyard and a selection of other vineyards within the estate. The harvest takes place manually between September 5th and 10th, followed by white vinification with soft pressing and a yield of 45%. Fermentation occurs at 18°C in steel, giving the wine a balanced structure and unparalleled freshness. On the palate, Cuvèe 59 offers a bouquet of fruity and floral aromas, enriched by mineral and citrus notes. The experience is completed with a lingering taste that invites you to discover every nuance. Ideal for special occasions or as a meditation wine.
Denomination: Oltrepo' Pavese Classic Method DOCG
Vintage: Nv
Dosage: Brut
Grapes: Pinot Noir and Chardonnay
Region: Lombardy (IT), Calvignano (PV)
Refinement: 24 months
Serving temperature: 4/6°C
Alcohol content: 12.5% ​​vol.
Tenuta Travaglino is one of the most historic companies in Oltrepo' Pavese which has its origins in the Middle Ages and can currently count up to 80 hectares of cultivated vineyards on the 300 hectares of property. Tradition and history are the watchwords of the Comi family which for five generations in Calvignano has been trying to bring Pinot Noir and Riesling, heritage of Oltrepo' Pavese, to the highest levels.