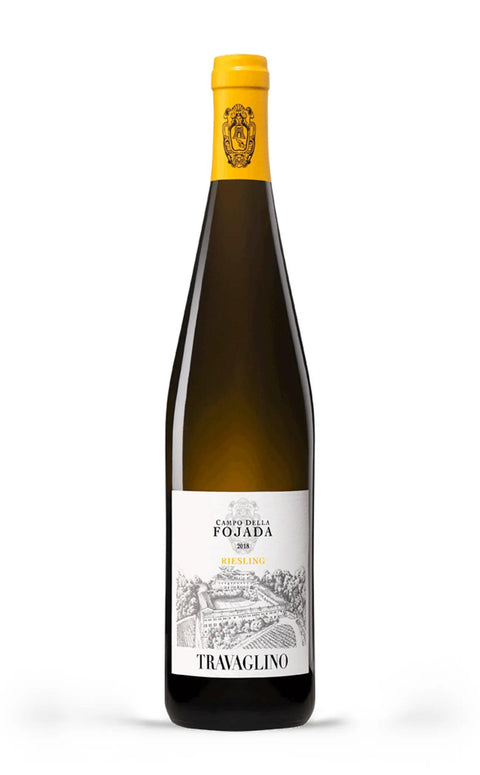 Riesling Renano Oltrepò Pavese Campo della Fojada DOC 2020 - Travaglino
Noble Aromatic Fruity
$12.00
$15.00
you save $3.00
What do we mean by these definitions? Click HERE to find out!
The Riesling Renano Oltrepò Pavese Campo della Fojada DOC by Travaglino is an Italian white wine that enchants with its elegance. Produced in the hills of Oltrepò Pavese, this wine is a benchmark of winemaking excellence. Its golden hue ignites the senses, while the olfactory profile reveals notes of green apple, peach, and a touch of minerality. On the palate, the structure is well-balanced, with a freshness that invites the next sip. Ideal for an elegant dinner, it pairs beautifully with seafood dishes or delicate cheeses.

Denomination: Oltrepo' Pavese DOC
Vintage: 2020
Dosage: Dry
Grape variety: Rhine Riesling
Region: Lombardy (IT), Calvignano (PV)
Refinement: Steel
Serving temperature: 8/10°C
Alcohol content: 13% vol.
Tenuta Travaglino is one of the most historic companies in Oltrepo' Pavese which has its origins in the Middle Ages and can currently count up to 80 hectares of cultivated vineyards on the 300 hectares of property. Tradition and history are the watchwords of the Comi family which for five generations in Calvignano has been trying to bring Pinot Noir and Riesling, heritage of Oltrepo' Pavese, to the highest levels.