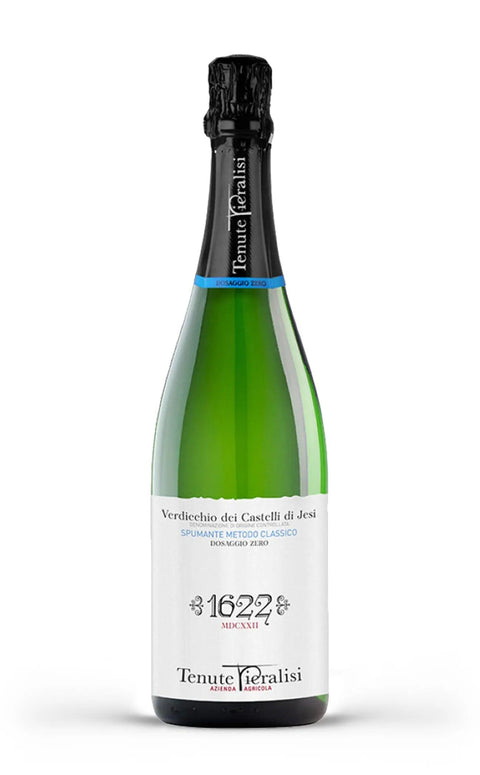 Metodo Classico 1622 Verdicchio Castelli di Jesi Dosaggio Zero DOC - Pieralisi
Fragrant Complex Exuberant
What do we mean by these definitions? Click HERE to find out!
Imagine a wine that captures the essence of time, a tribute to the Benedictine monk Francesco Scacchi, who in 1622 laid the foundations for the preparation of the sparkling wines we know today. Here is the Metodo Classico 1622 Verdicchio Castelli di Jesi Dosaggio Zero DOC by Pieralisi. This wine is an oenological masterpiece, a blend of 85% Verdicchio and 15% Chardonnay, grown using the Guyot method. The Verdicchio grapes come from the eastern part of the Colle del Sole vineyard in the municipality of Maiolati Spontini, while the Chardonnay grapes are grown in the Coste del Molino vineyard. The harvest takes place between late August and the first days of September, with yields per hectare of about 60 quintals. The vinification is a meticulous process: the first fermentation takes place in stainless steel tanks at an average temperature of 13°C, followed by a long rest on the fine lees and repeated batonnages. The wine then rests on the yeasts for a full 48 months in the underground cellar, awaiting disgorgement. The result is a wine that at first may seem austere and with high acidity, but then reveals cleanliness, fruity notes, and a lively palate that allow the taster to appreciate its frankness and brilliant pleasantness. This is a wine for the most demanding palates, those who have had enough of the ordinary and are looking for something extraordinary. This wine is ideal for aperitifs, raw fish, seafood, and sushi.
Denomination: Classic Method Castelli di Jesi DOC
Vintage: NV
Dosage: Zero
Grapes: Verdicchio and Chardonnay
Region: Marche (IT), Maiolati Spontini (AN)
Refinement: 48 months on the lees
Serving temperature: 4/6°C
Alcohol content: 12.5% ​​vol.
The Tenute Pieralisi farm has been owned by the homonymous family of winemakers from the Marche region since the 1960s and was born in 1976 with the foundation of Monte Schiavo in the heart of the classic Verdicchio Castello di Jesi production area. Today, the organic-run company can count on 103 hectares of vineyards and 48 hectares of olive groves.
The vinification, modern and attentive to the smallest detail, together with the skilful work in the vineyards are the ingredients for obtaining wines of absolute quality.