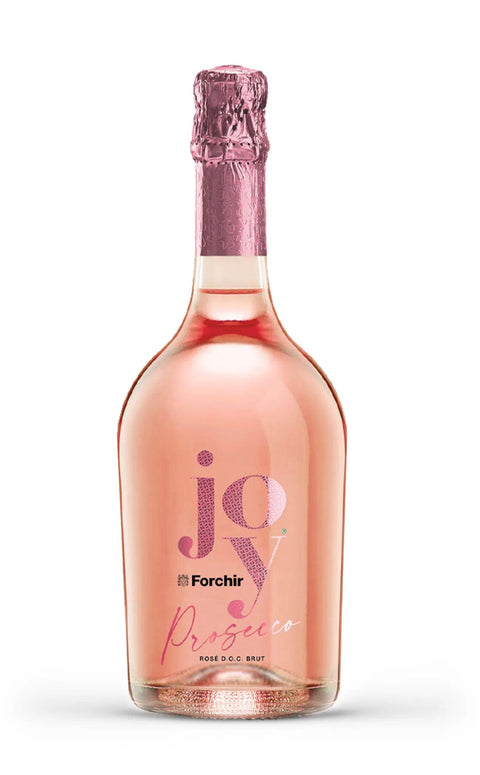 Prosecco Rosè Brut Joy DOC - Forchir
Creamy Floral Fruity
What do we mean by these definitions? Click HERE to find out!
Produced from the Glera and Pinot Nero grape varieties, lovingly cultivated in Camino di Tagliamento, this brut sparkling wine is a hymn to tradition and innovation. The red vinification of Pinot Nero harmoniously blends with the white vinification of Glera, culminating in a sparkling fermentation that enhances every single note. Visually, the wine presents itself with a pale pink color, almost like the petals of a freshly bloomed rose. On the nose, floral and fruity notes are perceived, a bouquet that evokes a blooming garden. In the mouth, the wine is a perfect balance of freshness and complexity, a sip that will take you directly to the lands of Friuli. Ideal for a summer aperitif, this Prosecco Rosè Brut Joy DOC by Forchir pairs splendidly with light dishes of the summer gastronomic tradition, such as fresh salads and grilled fish.
Denomination: Prosecco DOC
Vintage: NV
Dosage: Brut
Grape variety: Glera and Pinot Noir
Region: Friuli Venezia Giulia (IT), Camino al Tagliamento (UD)
Aging: Steel
Serving temperature: 4/6°C
Alcohol content: 11% vol.
Forchir is one of the main companies in Friuli and can count on 230 hectares of owned vineyards located in Camino al Tagliamento (UD) and Spilinbergo (PN). The company is owned by the Bianchini family who firmly believes in the use of technology to obtain a more sustainable and natural product as possible.
In the newly built zero-impact cellar, only steel is used for winemaking as a company philosophy. Production takes place without the use of sulfur dioxide and bottling takes place in compliance with the best wine conservation methods.
The excellent wines produced are the maximum representation of their grape variety and the authenticity of their territory.