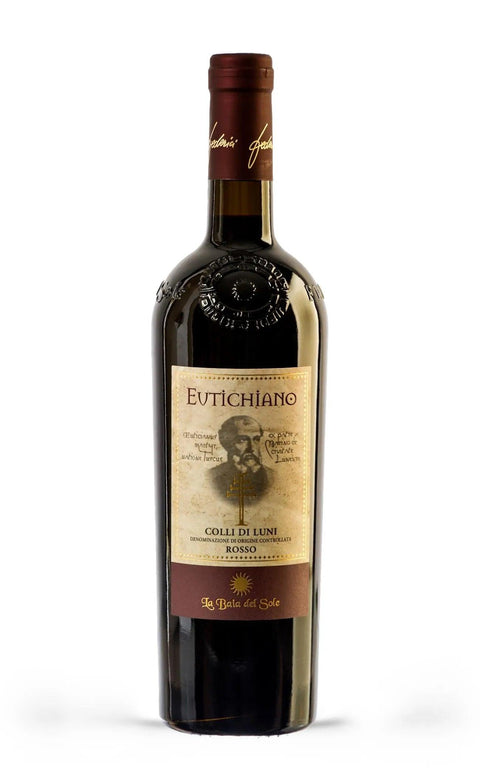 Colli di Luni Rosso DOC Eutichiano 2020 - Federici
Complex Spicy Elegant
What do we mean by these definitions? Click HERE to find out!
Immerse yourself in the irresistible allure of Colli di Luni Rosso DOC Eutichiano, a wine that embodies the essence of Liguria, a land of contrasts and traditions. Produced by the historic Federici winery, this wine is a triumph of Sangiovese, Merlot, and Ciliegiolo, grape varieties that find their ideal habitat in the Ligurian-Tuscan terroir. The color is an intense ruby red that foreshadows a rich olfactory bouquet of ripe red berry fruit, with spicy hints and forest fruits. On the palate, Eutichiano reveals itself as a medium-bodied, dry yet soft wine, balanced by a delicately tannic structure. The aging takes place in large oak barrels, and the wine comes onto the market after 6 months of bottle aging, enhancing its complexity and aging potential. Ideal for pairings with red meats, game stews, and medium-aged cheeses, this wine is the perfect choice for an elegant dinner or a special occasion.
Denomination: Colli di Luni Rosso DOC
Vintage: 2020
Dosage: Dry
Grapes: Sangiovese, Merlot and Ciliegiolo
Region: Liguria (IT), Ortonovo (SP)
Refinement: Steel
Serving temperature: 16/18°C
Alcohol content: 13.5% vol.
The Federici family boasts a long farming tradition since the early 1900s, but it only made a name for itself in the world of wine in 1985, when an old farmhouse on the Luni plain was revaluated. It was decided to plant only native vines and to make Vermentino its flagship wine. To date, thanks to the most modern winemaking techniques and the deepest respect for the territory and the vineyard, fine and elegant wines are obtained such as Vermentino (also Vermentino Nero vinified in rosé) and local reds capable of surprising even the most demanding palates.