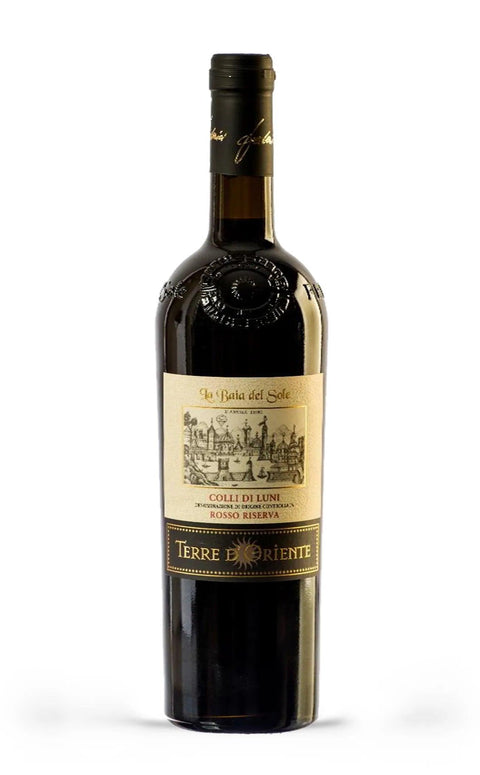 Colli di Luni Rosso Riserva Terre d'Oriente DOC 2016 - Federici
Complex Elegant Spicy
What do we mean by these definitions? Click HERE to find out!
The Colli di Luni Rosso Riserva Terre d'Oriente DOC by Federici embodies the essence of Italian winemaking tradition, with a touch of modernity. Produced using sustainable methods, this wine pays homage to the land it comes from. Its deep ruby hue is a visual invitation to discover its hidden treasures. On the nose, you'll find notes of ripe red fruits, sweet spices, and a hint of leather, blending into a captivating olfactory bouquet. In the mouth, its complexity unfolds through layers of flavors ranging from black cherry to plum, with nuances of tobacco and dark chocolate. The wood aging gives the wine a balanced tannic structure, making it an ideal candidate for aging. This wine is perfect for a candlelit romantic dinner, accompanied by red meat dishes or aged cheeses. But it's also ideal for an evening among friends, where its distinctive character can be fully appreciated.
Denomination: Colli di Luni Rosso Riserva DOC
Vintage: 2016
Dosage: Dry
Grapes: Sangiovese, Merlot and Canaiolo
Region: Liguria (IT), Ortonovo (SP)
Refinement: Barriques
Serving temperature: 16/18°C
Alcohol content: 14% vol.

The Federici family boasts a long farming tradition since the early 1900s, but it only made a name for itself in the world of wine in 1985, when an old farmhouse on the Luni plain was revaluated. It was decided to plant only native vines and to make Vermentino its flagship wine. To date, thanks to the most modern winemaking techniques and the deepest respect for the territory and the vineyard, fine and elegant wines are obtained such as Vermentino (also Vermentino Nero vinified in rosé) and local reds capable of surprising even the most demanding palates.