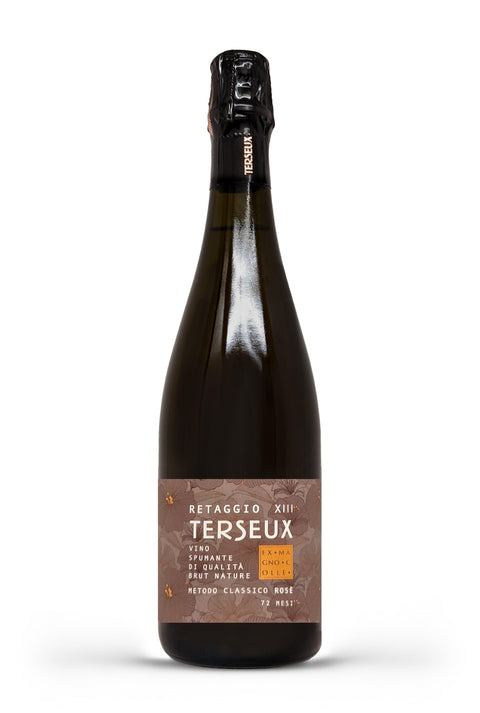 Metodo Classico Rosè Terseux Retaggio XIII Brut Nature DOCG 2013 - Cantina Socré
Mineral Complex Savory
What do we mean by these definitions? Click HERE to find out!
Imagine a sunset in Barbaresco, where the sky merges with the land in an ethereal embrace. This is the Metodo Classico Rosè Terseux Retaggio XIII Brut Nature DOCG from Cantina Socré. Produced with 100% Nebbiolo grapes, this wine is a tribute to tradition and innovation. The stainless steel vinification, followed by 72 months of sur lie aging, gives the wine a fine and persistent perlage. On the nose, delicate notes of rose and violet are perceived, while on the palate, the wine is a ballet of elegance and complexity in which the mineral body gives way to significant salinity, suggesting the potential for significant aging that this unique wine can achieve. Perfect for an aperitif or to accompany fish and white meat dishes. Very gastronomic and capable of standing up to strong and important flavors.
Denomination: Alta Langa DOCG
Vintage: 2018
Dosage: Brut Nature
Grape variety: Pinot Noir
Region: Piedmont (IT), Nizza Monferrato (AT)
Refinement: 36 months on the lees
Serving temperature: 4/6°C
Alcohol content: 12% vol.
The Socré winery, with a Piedmontese name meaning "clog maker", began its history in 1869 when the great-grandfather of the current owners bought land in Barbaresco. In the beginning, most of the grapes were sold to farmers, while only a small percentage was used for winemaking and family consumption. In 1958, the father and grandfather of the current owners renewed the vineyard, increasing the number of Nebbiolo vines. Starting in 1990, his son Marco and his grandchildren Giulio and Lorenzo expanded the company with new vineyards in the Langhe, Alba and Cisterna d'Asti in the Asti area. Today, the winery has about three hectares of Nebbiolo vineyards in the upper part of the Roncaglie cru and has recently created a distinctive Alta Langa thanks to Pinot Noir. Each bottle is part of a limited and unique production able to amaze even the palates more demanding.