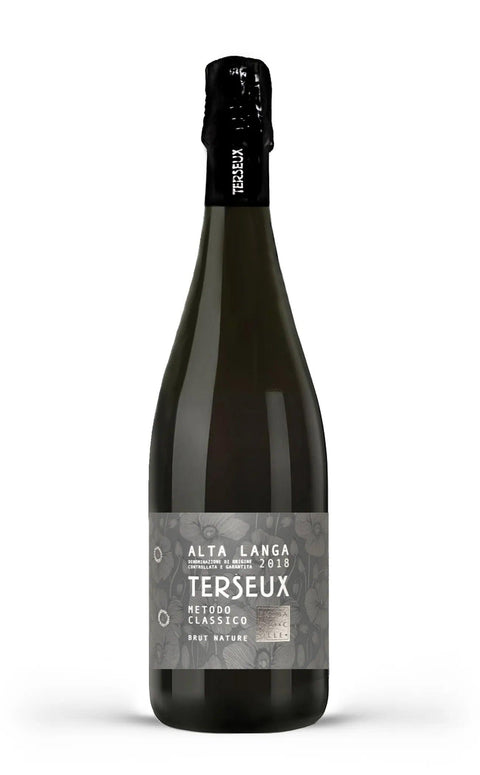 Alta Langa Terseux Brut Nature DOCG 2018 - Cantina Socré
Complex Mineral Bubbly wine
What do we mean by these definitions? Click HERE to find out!
Like an autumn hug wrapped in a warm blanket, Cantina Socré's Alta Langa Terseux Brut Nature DOCG is a sensory experience that leaves you breathless. Originating from the hills of Piedmont, this Metodo Classico sparkling wine is a hymn to Italian tradition and excellence. The Pinot Noir grapes are handpicked, and the wine matures for 36 months, gaining complexity that surprises you with every sip. On the palate, it is dry and features an enveloping perlage. Its olfactory profile is fresh and elegant, with notes of bread and white flowers. On the palate it is mineral with a hint of sapidity. This wine is perfect for special occasions and pairs wonderfully with seafood appetizers or aged cheeses.
Denomination: Alta Langa DOCG
Vintage: 2018
Dosage: Brut Nature
Grape variety: Pinot Noir
Region: Piedmont (IT), Three Stars (CN)
Aging: 36 months on yeasts
Serving temperature: 4/6°C
Alcohol content: 12% vol.
The Socré winery, with a Piedmontese name meaning "clog maker", began its history in 1869 when the great-grandfather of the current owners purchased land in Barbaresco. At the beginning, most of the grapes were sold to farmers, while only a small percentage was used for winemaking and family consumption. In 1958, the father and grandfather of the current owners renovated the vineyard, increasing the number of Nebbiolo vines. Starting in 1990, his son Marco and nephews Giulio and Lorenzo expanded the company with new vineyards in the Langhe, Alba and in the Asti area in Cisterna d'Asti. Today, the winery has approximately three hectares of Nebbiolo vineyards in the upper part of the Roncaglie crù and has recently created a distinctive Alta Langa thanks to Pinot Noir. Each bottle is part of a limited and unique production capable of surprising the palates even more demanding.