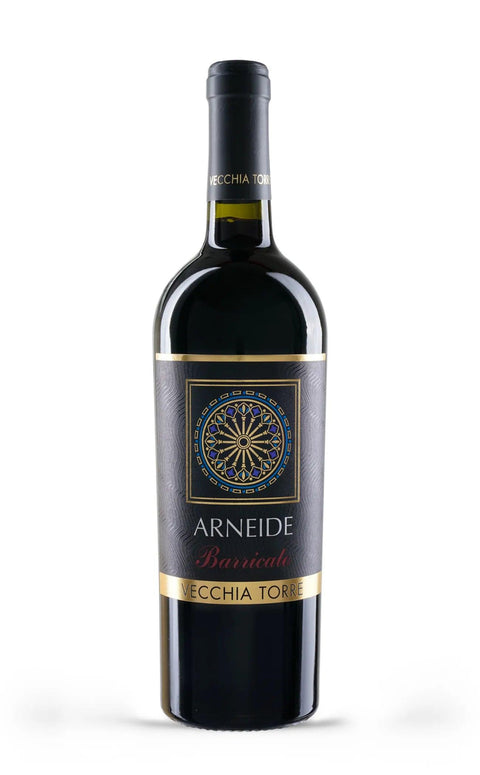 Salento Rosso Arneide Barricato PGI 2018 - Vecchia Torre
Elegant Exuberant Fruity
What do we mean by these definitions? Click HERE to find out!
The Salento Rosso Arneide Barricato IGP by Vecchia Torre is a wine that embodies the essence of Salento with a touch of class. Made primarily from Negroamaro and Primitivo grapes, this wine is a tribute to the winemaking tradition of Puglia. The aging in small wooden barrels, or barriques, for a period between 12 and 18 months, gives the wine an olfactory and taste complexity that is hard to forget. On the nose, you perceive notes of ripe red fruits, while on the palate it is soft, velvety in the tannins, and incredibly balanced. Ideal for accompanying a romantic candlelit dinner with roast meat or game dishes, this wine is also an excellent companion for evenings with friends.
Denomination: Salento Rosso IGP
Vintage: 2018
Dosage: Dry
Grapes: Negroamaro and Primitivo
Region: Puglia (IT), Leverano (LE)
Refinement: Barriques
Serving temperature: 16/18°C
Alcohol content: 13.5% vol.
Cantina Vecchia Torre is one of the leading companies in the Apulian wine scene, it was founded in 1959 and today it can count on 1500 hectares of vineyards conferred by 1100 members.
It all begins with a careful selection of the grapes transferred to the cellar and thanks to modern winemaking and aging techniques, a genuine local wine is obtained, born from the profound respect for traditions and the passion of the people who work to obtain the highest quality possible.