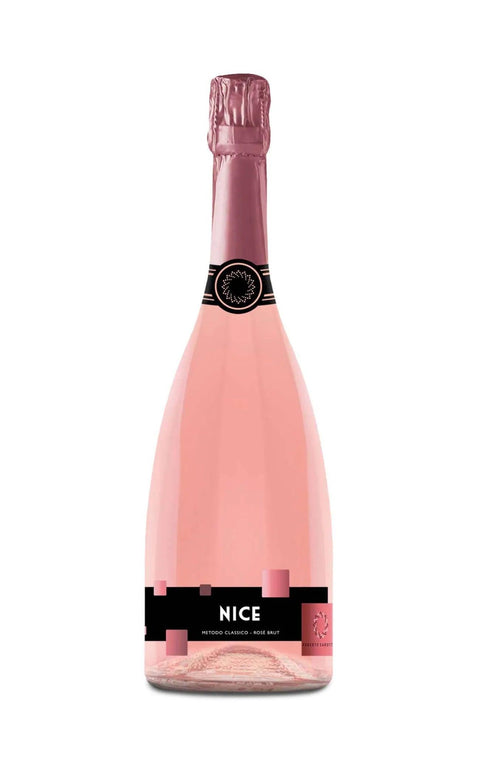 Metodo Classico Nice Rosè Brut - Roberto Sarotto
Complex Noble Fragrant
What do we mean by these definitions? Click HERE to find out!
After a long maturation on the yeasts, the Metodo Classico Nice Rosè Brut by Roberto Sarotto emerges as an effervescent jewel. Its perlage is dense and lively, a ballet of bubbles dancing in the glass. The aromas are a fragrant and fruity bouquet, an explosion of wild strawberries and rose petals that blend with a touch of almond. The taste is creamy, but with a fresh, savory finish that leaves a lasting impression. The wine is a blend of Chardonnay and Pinot Noir, grown on calcareous marl soils. The harvest takes place between mid and late August, followed by vinification that enhances the unique characteristics of each variety. The wine shows potential for elegance and complexity. Ideal for special occasions, this sparkling wine pairs beautifully with raw fish starters or tuna tartare. It is also the perfect companion for a romantic evening under the stars.
Denomination: Rosè Brut Classic Method
Vintage: NV
Dosage: Brut
Grapes: Chardonnay and Pinot Noir
Region: Piedmont (IT), Neviglie (CN)
Aging: on the lees for 24 months
Serving temperature: 8/10°C
Alcohol content: 12% vol.
The Roberto Sarotto winery is located in Piedmont, in the heart of the Langhe, in Neviglie near the city of Alba. The company can count on 90 hectares of property in the most prestigious production areas of Piedmont, located in different areas: Ronconuovo (Neviglie) where the main vinification and bottling cellar is also located; Novello, Barolo, Neive, Mango. In Gavi, on the other hand, there is a Cortese winery for the production of Gavi from the municipality of Gavi.
The philosophy of the cellar is particularly aimed at the needs of final consumers. The combination of tradition and modern winemaking techniques, together with the care of the vineyard, brings to light a balanced and pleasant wine in compliance with environmental sustainability.