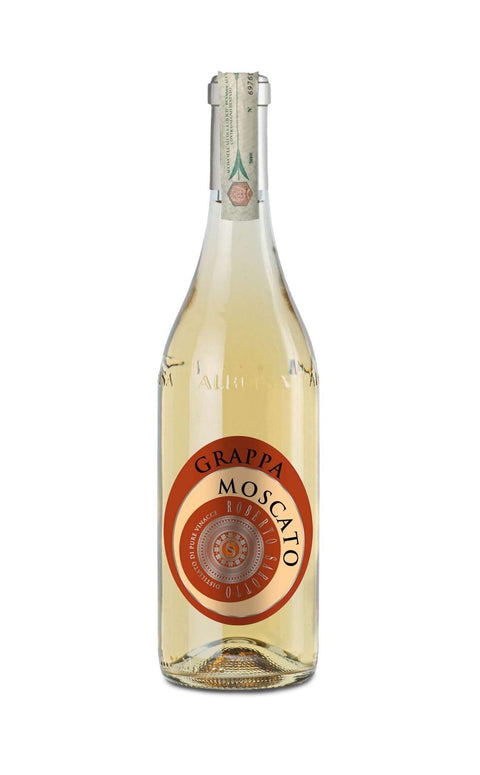 Grappa di Moscato (700ml) - Roberto Sarotto
Fruity Elegant Floral
What do we mean by these definitions? Click HERE to find out!
The Grappa di Moscato by Roberto Sarotto is a distillate that captures the essence of the famous Moscato grape, cultivated in the fertile lands of Piedmont. Produced in the traditional manner at the Distilleria Villa Rosati, this grappa stands out for its pure straw color and for a deep and rich aroma, embellished by fruity tones and shades of walnut and tobacco. On the palate, the grappa is soft and warming, with a lingering aftertaste that invites a second sip. The aging of four months in French oak barrels adds a touch of complexity and depth to the taste profile. Ideal as a digestif, this grappa is the perfect choice to conclude a refined dinner or to enjoy a moment of pure relaxation.
Denomination: Grappa di Moscato
Vintage: NV
Dosage: Dry
Grape variety: Moscato
Region: Piedmont (IT), Neviglie (CN)
Refinement: -
Serving temperature: 16/18°C
Alcohol content: 40% vol.
The Roberto Sarotto winery is located in Piedmont, in the heart of the Langhe, in Neviglie near the city of Alba. The company can count on 90 hectares of property in the most prestigious production areas of Piedmont, located in different areas: Ronconuovo (Neviglie) where the main vinification and bottling cellar is also located; Novello, Barolo, Neive, Mango. In Gavi, on the other hand, there is a Cortese winery for the production of Gavi from the municipality of Gavi.
The philosophy of the cellar is particularly aimed at the needs of final consumers. The combination of tradition and modern winemaking techniques, together with the care of the vineyard, brings to light a balanced and pleasant wine in compliance with environmental sustainability.