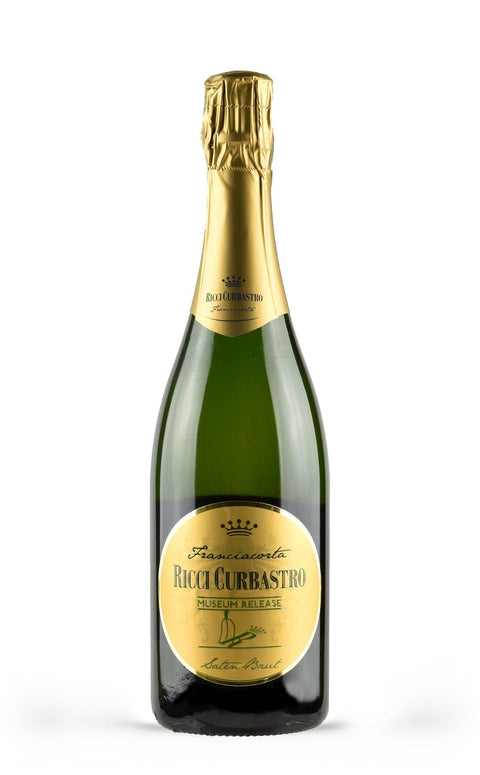 Franciacorta Museum Release Extra Brut Metodo Classico DOCG 2009 - Ricci Curbastro
Elegant Noble Complex
What do we mean by these definitions? Click HERE to find out!
In the land of Franciacorta, where time seems to stand still to make way for the art of winemaking, a wine is born that is a hymn to perfection: the Franciacorta Museum Release Extra Brut Metodo Classico DOCG 2009 by Ricci Curbastro. This wine is a masterpiece of balance and complexity, the result of a careful selection of Chardonnay and Pinot Noir grapes, fermented separately and then masterfully blended. Visually, this Franciacorta presents itself with an intense golden color, crossed by a very fine and persistent perlage. On the nose, it is a riot of aromas: from toasted bread to green apple, passing through notes of almond and white flowers. In the mouth, its structure is enveloping and rich, with a minerality that enhances its freshness and a long, savory finish that leaves an indelible imprint. Ideal for special occasions, this wine pairs wonderfully with raw fish dishes, oysters, and caviar. But it also does not disdain a pairing with blue cheeses or a porcini mushroom risotto.
Denomination: Franciacorta DOCG
Vintage: 2009
Dosage: Extra Brut
Grapes: Chardonnay and Pinot Noir
Region: Lombardy (IT), Capriolo (BS)
Refinement: Steel
Serving temperature: 4/6°C
Alcohol content: 12.5% ​​vol.
Located in Capriolo, in the province of Brescia, Ricci Curbastro is one of the most historic and renowned companies in Franciacorta. The current estate, now run by the 17th generation of the family, was founded way back in 1895 and today covers 27 hectares of vineyards in Franciacorta of the total 32 owned. Attention to sustainability issues, particular attention to every detail during production and a continuous search for innovation in the cellar, make each bottle a surprising journey through history, tradition and the future.