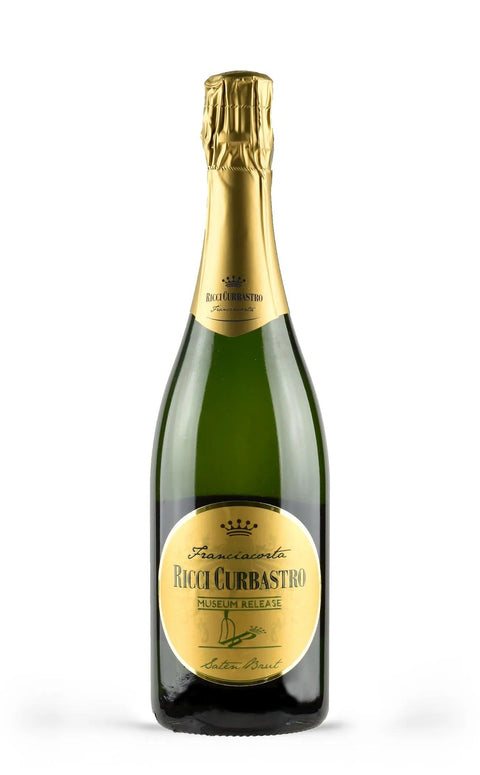 Franciacorta Metodo Classico Brut Museum Release DOCG 2009 - Ricci Curbastro
Refined Noble Fragrant
What do we mean by these definitions? Click HERE to find out!
Imagine opening a bottle that is a journey through time, an ode to winemaking mastery. The Franciacorta Metodo Classico Brut Museum Release DOCG 2009 by Ricci Curbastro is a sensory experience that begins in the vineyards of Lombardy, where Chardonnay and Pinot Nero grapes grow. This sparkling wine matures on yeasts for at least 90 months, a process that gives it extraordinary complexity. Visually, the wine presents itself with a rich straw-yellow color, which can vary depending on the vintage. On the nose, you are greeted by an intense bouquet of hazelnut and toasted almonds, enriched by notes of vanilla and buttery pastry. In the background, shades of candied pineapple and citrus emerge. On the palate, subtle freshness blends with a long mineral persistence, creating perfect balance.
This sparkling wine is incredibly versatile and pairs splendidly with an entire fish-based menu. It is also an excellent aperitif, ideal for starting an unforgettable evening.
Denomination: Franciacorta DOCG
Vintage: 2009
Dosage: Brut
Grapes: Chardonnay, Pinot Blanc and Pinot Noir
Region: Lombardy (IT), Capriolo (BS)
Refinement: 90 months
Serving temperature: 4/6°C
Alcohol content: 12.5% ​​vol.
Located in Capriolo, in the province of Brescia, Ricci Curbastro is one of the most historic and renowned companies in Franciacorta. The current estate, now run by the 17th generation of the family, was founded way back in 1895 and today covers 27 hectares of vineyards in Franciacorta of the total 32 owned. Attention to sustainability issues, particular attention to every detail during production and a continuous search for innovation in the cellar, make each bottle a surprising journey through history, tradition and the future.