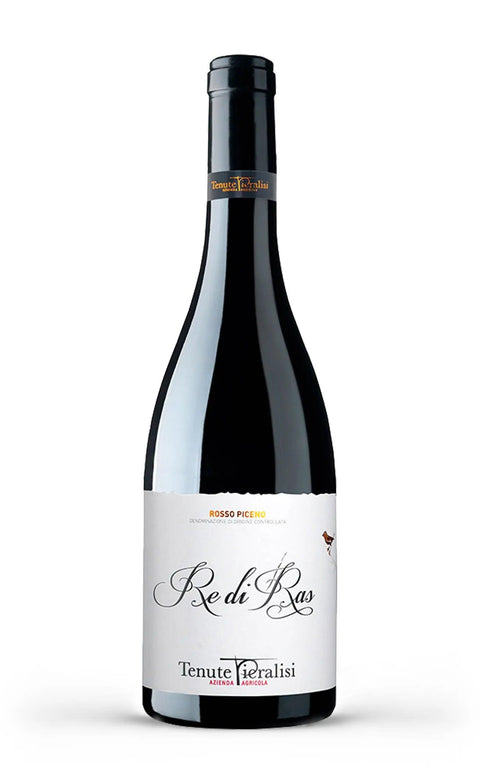 Rosso Piceno Re Di Ras DOC 2015 - Pieralisi
Elegant Noble Complex
What do we mean by these definitions? Click HERE to find out!
In the heart of Marche, where winemaking tradition is a legacy passed down from generation to generation, comes the Rosso Piceno Re Di Ras DOC by Pieralisi. This wine, often overlooked in the Italian landscape, has all the credentials to make it to the list of great Italian reds. Produced from Montepulciano and Sangiovese grapes, grown in the vineyards of Maiolati Spontini, this wine is an ode to complexity and refinement. On the nose, it unveils an abundance of fruity notes, including plum and ripe cherry, supported in the mouth by robust but fine tannins, alcohol, acidity, and a concentration of aromas that envelop you in a warm and embracing hug. This wine is ideally paired with red meats, game, and aged cheeses. A glass of Rosso Piceno Re Di Ras is like a journey through the hills of Marche, an experience that leaves you breathless and eager to explore even more.
Denomination: Rosso Piceno DOC
Vintage: 2015
Dosage: Dry
Grapes: Montepulciano and Sangiovese
Region: Marche (IT), Maiolati Spontini (AN)
Refinement: French oak barrels
Serving temperature: 16/18°C
Alcohol content: 14% vol.
The Tenute Pieralisi farm has been owned by the homonymous family of winemakers from the Marche region since the 1960s and was born in 1976 with the foundation of Monte Schiavo in the heart of the classic Verdicchio Castello di Jesi production area. Today, the organic-run company can count on 103 hectares of vineyards and 48 hectares of olive groves. The vinification, modern and attentive to the smallest detail, together with the skilful work in the vineyards are the ingredients for obtaining wines of absolute quality.