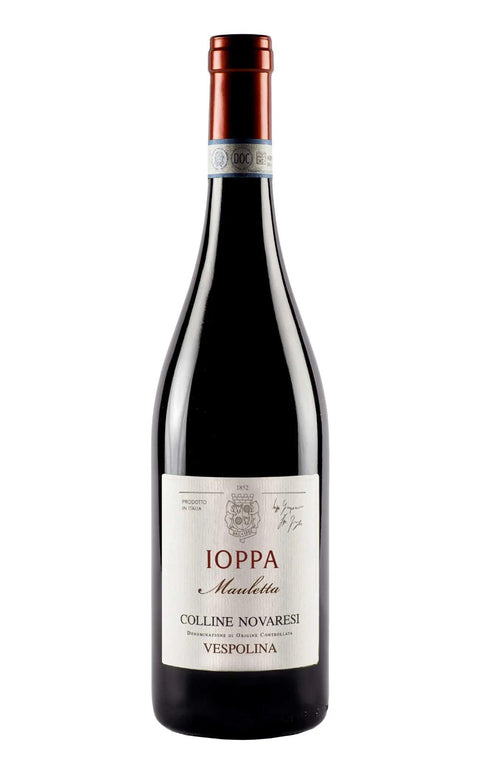 Vespolina Colline Novaresi Mauletta DOC 2016 - Ioppa
Exuberant Spicy Elegant
What do we mean by these definitions? Click HERE to find out!
The Vespolina Colline Novaresi Mauletta DOC from Ioppa is a red wine that embodies the elegance and complexity of Upper Piedmont. Produced through traditional winemaking methods, this wine is a true example of craftsmanship and passion. At first glance, its deep ruby color captures attention, while olfactory notes of ripe red fruits, spices and a delicate touch of liquorice emerge on the nose. On the palate, its structure is well balanced, with soft tannins that accompany a persistent, almost balsamic finish. Ideal for a romantic candlelit dinner, it pairs beautifully with red meat dishes and mature cheeses.
Denomination: Colline Novaresi DOC
Vintage: 2016
Dosage: Dry
Grape variety: Vespolina
Region: Piedmont (IT), Romagnano Sesia (NO)
Refinement: Large oak barrels
Serving temperature: 16/18°C
Alcohol content: 13% vol.
The Ioppa winery is a family-run business located in Romagnano Sesia, in Upper Piedmont. The winery is located on a hill overlooking the surrounding vineyards, the Sesia river valley and the Monte Rosa mountain. Ioppa produces a variety of wines, including Ghemme DOCG and Colline Novaresi DOC wines. The Ioppa family has a long history of growing grapes since 1852, over the generations the winery has undergone many expansions and the current owners, Gianpiero and Giorgio Ioppa, have tripled the size of the estate to over 20 hectares and built a new facility modern, today it is an example of success for the area. The soil of the vineyards is a mixture of clay and sand with gravel-like pebbles which influence the characteristics of the aged wines. The Ioppa cellar is underground and contains oak barrels and barriques for the aging of Ghemme, Ghemme Cru and Vespolina wines. In addition to traditional manufacturing techniques, Ioppa also uses modern technology and equipment to ensure the highest quality of its products.