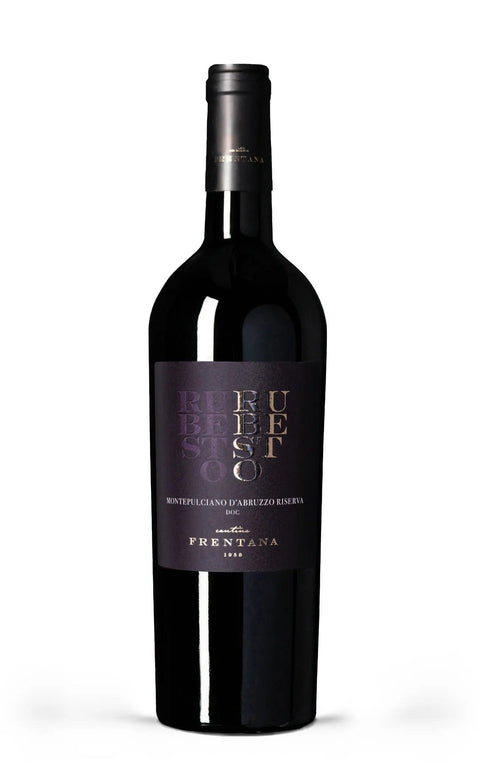 Montepulciano d'Abruzzo Riserva Rubesto DOC 2017 - Frentana
Elegant Complex Spicy
What do we mean by these definitions? Click HERE to find out!
The Montepulciano d'Abruzzo Riserva Rubesto Premium DOC by Cantina Frentana is a red wine that embodies the essence of the Abruzzo terroir. Made from 100% Montepulciano grapes, this wine undergoes malolactic fermentation, giving it a robust structure. Its olfactory profile is an intriguing mix of liquorice and coffee aromas, while on the palate it stands out for its woody notes and well-defined tannic structure. The high acidity adds a touch of freshness, making this wine an ideal companion for rich dishes like roasts and aged cheeses. It's a wine that invites discovery, perfect for an elegant dinner or a special occasion.
Denomination: Montepulciano d'Abruzzo Riserva DOC
Vintage: 2017
Dosage: Dry
Grape variety: Montepulciano
Region: Abruzzo (IT), Rocca San Giovanni (CH)
Refinement: French oak Tonneaux
Serving temperature: 16/18°C
Alcohol content: 13.5% vol.
Cantina Frentana is a cooperative association of about 500 winemakers born in 1960, mostly family-run, who take care of 1000 hectares of vineyards on the Frentane hills.
This strip of territory extends between the slopes of the Majella and the marvelous Costa dei Trabocchi in southern Abruzzo. The flourishing calcareous soil, the alternation of sea and land breezes, the particular mild climate of the coast make this area suited to top quality viticulture. The winery mainly produces wines deriving from native vines using the most modern technologies to obtain fine and unique wines, capable of surprising even the most refined palate.