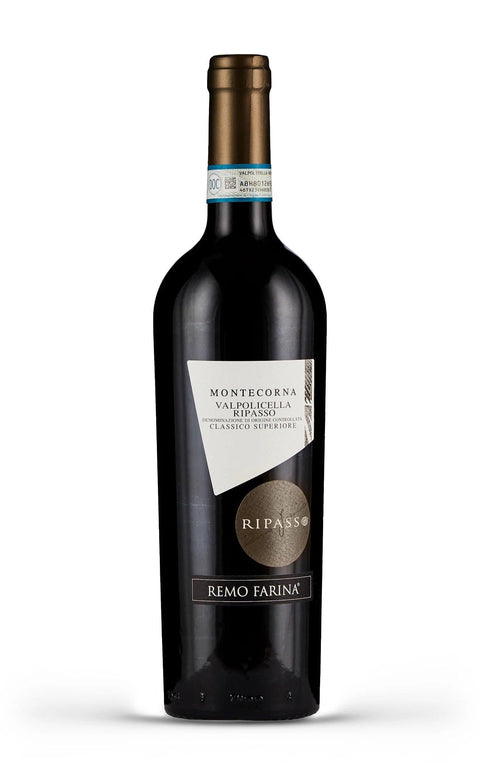 Valpolicella Ripasso Classico Superiore Montecorna DOC 2019 Magnum - Farina
Elegant Soft Fruity
What do we mean by these definitions? Click HERE to find out!
The Valpolicella Ripasso Classico Superiore Montecorna DOC by Farina is a wine that enchants the senses from the very first sip. Produced in Valpolicella, this wine is a harmonious blend of Corvina, Rondinella, and Molinara that follows the Ripasso method. Its aging in wood enhances its complexity, offering notes of vanilla and chocolate that blend with aromas of ripe cherry and plum. Its structure is enveloping and harmonious, with an aging potential that promises to improve over time. Ideal for a romantic candlelit dinner, it pairs beautifully with red meat dishes and aged cheeses. A wine that not only satisfies the palate but elevates every occasion into an unforgettable experience.
Denomination: Valpolicella Ripasso Classico Superiore DOC
Vintage: 2019
Dosage: Dry
Grapes: Corvina, Corvinone and Rondinella
Region: Veneto (IT), Pedemonte (VR)
Refinement: Barriques and Slavonian oak barrels
Serving temperature: 16/18°C
Alcohol content: 14% vol.
The Farina farmstead is one of the most historic companies in the Valpolicella Classica and currently manages 45 hectares of selected vineyards.
The Farina family aspires to create noble wines that can enhance the grape variety and terroir by relying on the best technologies both in winemaking and in bottling.
It can be said that the result was fully achieved as it is an increasingly successful reality in the area thanks to the excellence of its wines and the frantic search to improve from year to year.