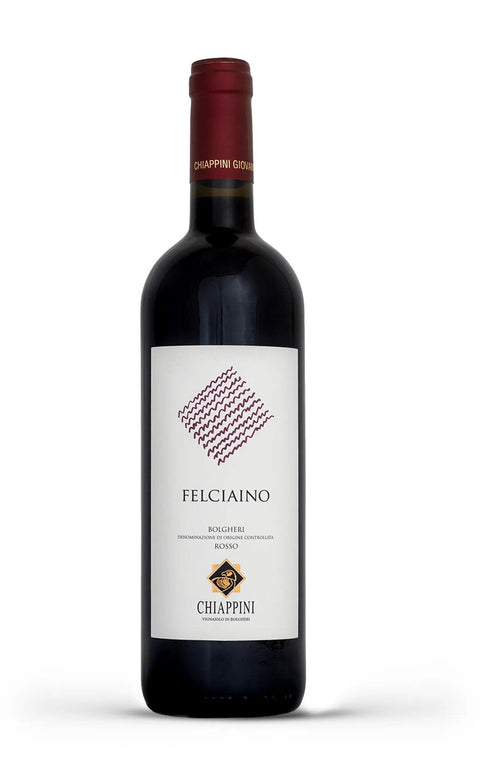 Bolgheri Rosso DOC Felciaino 2019 - Chiappini
Noble Soft Complex
What do we mean by these definitions? Click HERE to find out!
The Bolgheri Rosso DOC Felciaino by Chiappini embodies the essence of the Tuscan terroir. Sourced from a single vineyard, this wine is a blend of 50% Cabernet Sauvignon, 40% Merlot, and 10% Cabernet Franc. Each variety is vinified separately before being blended and further aged in used French oak. The result is a wine that boasts an intense ruby red color and offers an olfactory bouquet of ripe red fruits, spices, and a touch of vanilla. On the palate, Felciaino is a medium-bodied wine with soft tannins and a lingering finish. Ideal for pairing with red meats, aged cheeses, and Tuscan cuisine, this wine is perfect for a romantic dinner or an evening among friends.
Denomination: Bolgheri Rosso DOC
Vintage: 2019
Dosage: Dry
Grapes: Cabernet Sauvignon, Merlot and Sangiovese
Region: Tuscany (IT), Bolgheri (LI)
Refinement: Used French oak barrels
Serving temperature: 16/18°C
Alcohol content: 14.5% vol.
The Chiappini farm is located in the heart of the Bolgheri DOC on the Bolgheri road, the road that hosts the best wineries in the area. The cellar is spread over 27 hectares of property, 15 of which are vineyards for a production of around 80,000 bottles. The family-run company was founded in the 1950s and switched to a completely organic regime in 2010. In the recently renovated cellar, an approach that is as natural as possible is used and the family, closely linked to the territory, seeks to best express the company philosophy through their splendid wines: "the earth is worth as much as those who work it".