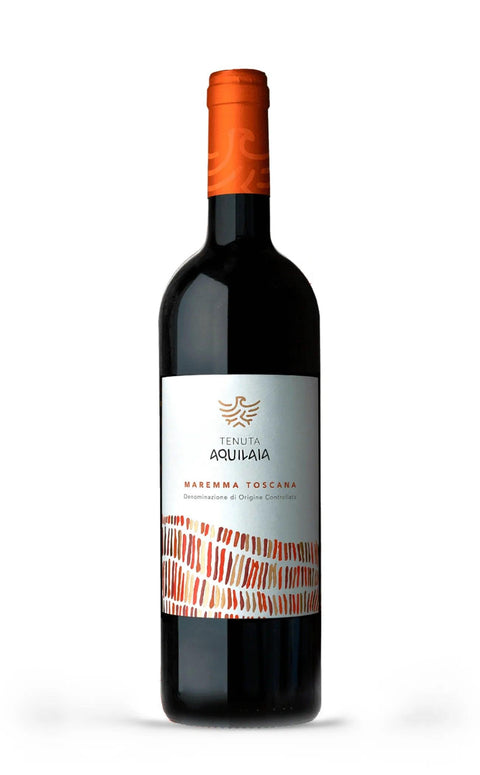 Toscana Rosso Tenuta Aquilaia Maremma DOC 2019 - Uggiano
Elegant Savory Balanced
What do we mean by these definitions? Click HERE to find out!
Immerse yourself in the heart of Maremma Tuscany with Toscana Rosso Tenuta Aquilaia Maremma, a wine that embodies the essence of Italian terroir. Made primarily from Sangiovese grapesand Petit Verdot, this wine is a tribute to Tuscan winemaking tradition. Its structure is like a warm, enveloping hug, while the olfactory profile is a captivating bouquet of ripe red fruits, sweet spices, and earthy notes. On the palate, you will be greeted by evocative flavors of black cherries, plums, and a pinch of black pepper. Aging in oak barrels adds a touch of vanilla and leather, making each sip an unforgettable experience. Discover the magic of Maremma with this extraordinary wine, perfect for accompanying a romantic dinner or a gathering among friends. Let yourself be seduced by its irresistible charm.
Denomination: Maremma Toscana DOC
Vintage: 2019
Dosage: Dry
Grapes: Sangiovese and Petit Verdot
Region: Tuscany (IT), Scandicci (FI)
Refinement: Steel and cement
Serving temperature: 16/18°C
Alcohol content: 13.5% vol.
The Uggiano farm was founded in 1976 in Scandicci in the hamlet of San Vincenzo a Torri, in the heart of Chiati dei Colli Fiorentini, from the idea of ​​a group of entrepreneurs from Bergamo who were passionate about Tuscan wines.
The vineyards, located at an altitude that varies between 250 and 300 meters above sea level, are cultivated with respect for the environment and the ecosystem to obtain the grapes in the most natural way possible. In the cellar we work in such a way as to respect as much as possible the characterization of the territory and to have wines of the utmost excellence capable of representing the best enology of the Florentine hills.