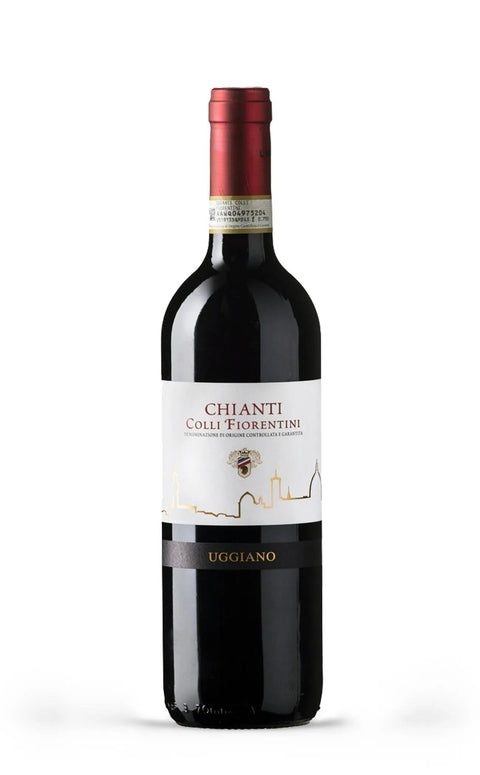 Chianti Colli Fiorentini Skyline DOCG 2019 - Uggiano
Noble Spicy Fruity
What do we mean by these definitions? Click HERE to find out!
The Chianti Colli Fiorentini Skyline DOCG by Uggiano is an enological masterpiece that captures the essence of Tuscany. Produced from a harmonious blend of 90% Sangiovese and 10% Cabernet Sauvignon, this wine stands out for its complexity and depth. On the nose, you'll encounter enveloping aromas of ripe dark berries, new leather, and underbrush, setting the stage for a unique taste experience. On the palate, the wine is pleasantly balanced, with light tannins and fresh acidity enhancing notes of dried cherry, white pepper, and a delicate hint of star anise. Its intensity is further enriched by a deep plum flavor that lingers in a long, satisfying finish. Ideal for pairing with grilled meats and aged cheeses, this wine is the perfect choice for a romantic dinner or an evening among friends.
Denomination: Chianti Colli Fiorentini DOCG
Vintage: 2019
Dosage: Dry
Grapes: Sangiovese and Cabernet Sauvignon
Region: Tuscany (IT), Scandicci (FI)
Refinement: Wooden barrels
Serving temperature: 16/18°C
Alcohol content: 13% vol.
The Uggiano farm was founded in 1976 in Scandicci in the hamlet of San Vincenzo a Torri, in the heart of Chiati dei Colli Fiorentini, from the idea of ​​a group of entrepreneurs from Bergamo who were passionate about Tuscan wines.
The vineyards, located at an altitude that varies between 250 and 300 meters above sea level, are cultivated with respect for the environment and the ecosystem to obtain the grapes in the most natural way possible. In the cellar we work in such a way as to respect as much as possible the characterization of the territory and to have wines of the utmost excellence capable of representing the best enology of the Florentine hills.