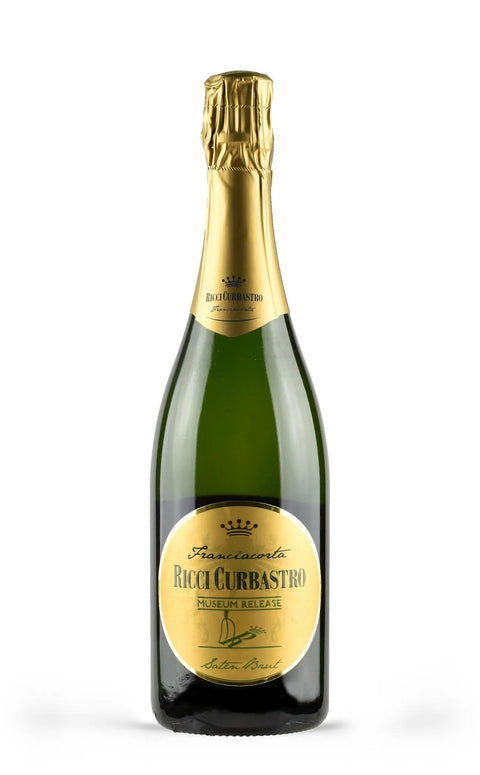 Franciacorta Metodo Classico Satèn Brut Museum Release DOCG 2008 - Ricci Curbastro
Refined Noble Complex
What do we mean by these definitions? Click HERE to find out!
The Franciacorta Metodo Classico Satèn Brut Museum Release DOCG 2008 by Ricci Curbastro is a liquid work of art, an ode to the elegance and typicity of Franciacorta. Made from 100% Chardonnay grapes fermented in oak barrels, this wine has been awarded for six consecutive years, from 2001 to 2006, with the Cinque Grappoli by the Italian Sommelier Association (AIS) and with the Tre Bicchieri by the Gambero Rosso guide. Visually, the wine presents itself with a golden luminosity that invites tasting. On the nose, it is a riot of ripe fruit, spices, and yeasts, with toasted and almond notes adding complexity. On the palate, elegance melds with structure, supported by a light acidity that enlivens the sensory experience. As for pairings, this Franciacorta is ideal with raw fish dishes, oysters, or a porcini mushroom risotto. Imagine enjoying it on a summer evening, under a starry sky, in good company.
Denomination: Franciacorta DOCG
Vintage: 2008
Dosage: Satèn Brut
Grape variety: Chardonnay
Region: Lombardy (IT), Capriolo (BS)
Refinement: 90 months
Serving temperature: 4/6°C
Alcohol content: 12.5% ​​vol.
Located in Capriolo, in the province of Brescia, Ricci Curbastro is one of the most historic and renowned companies in Franciacorta. The current estate, now run by the 17th generation of the family, was founded way back in 1895 and today covers 27 hectares of vineyards in Franciacorta of the total 32 owned. Attention to sustainability issues, particular attention to every detail during production and a continuous search for innovation in the cellar, make each bottle a surprising journey through history, tradition and the future.