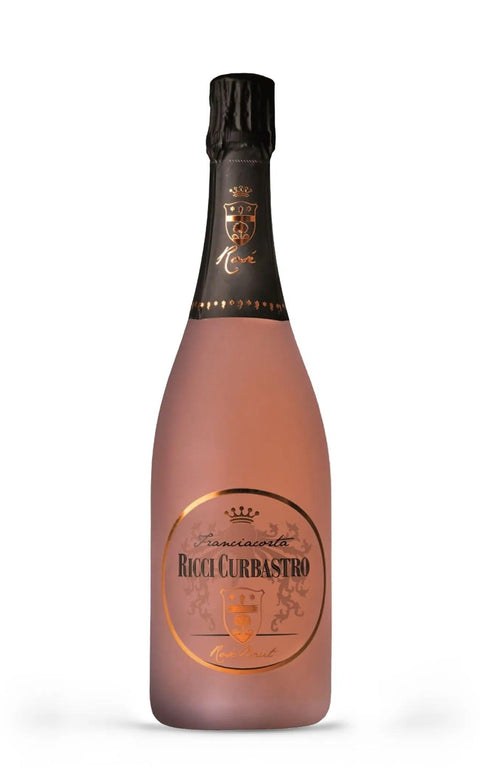 Franciacorta Rosè Brut Metodo Classico DOCG - Ricci Curbastro
Noble Elegant Fruity
What do we mean by these definitions? Click HERE to find out!
The Franciacorta Rosé Brut from Ricci Curbastro is a wine that epitomizes the quintessence of allure and sophistication. Crafted with an elegant blend of 80% Pinot Nero and 20% Chardonnay, this wine originates from the vineyards of Bosco Basso in Capriolo as well as various estates in Capriolo and Iseo. Its production process is nothing short of meticulous: the Pinot Nero grapes undergo a brief pressing in contact with the skins to extract the desired hue, followed by fermentation in stainless steel vats. Subsequently, the wine undergoes a second bottle fermentation, adhering to the time-honored Franciacorta method, maturing for a minimum of 36 months.
Visually, it presents a luminous salmon pink color, graced by a fine and enduring mousse, enriched by a dance of delicate and effervescent bubbles. Olfactorily, the wine bursts forth in a bouquet replete with the fragrances of mature sour cherries and jujubes, wild berries, mountain herbs, and hints of rose petals. Upon the palate, the wine exhibits a rigorous and assertive character; its vivacious freshness is swiftly tempered by a crystalline and imposing body that is both fruity and fragrant. With an alcohol content of 12.5%, this wine is nothing short of a Don Giovanni among Franciacortas, versatile enough to accompany an expansive array of foods, from the delicate to the spicy, from seafood to meats, and from charcuterie to cheeses.
The bottle itself has been conceived with an entirely fresh design—a satin white bottle designed to better showcase its beautiful color. The label, crafted by Zowart in Rome, is transparent, allowing the satin finish to permeate through, revealing the wine's elegant salmon tint.
This wine is not merely a gastronomic delight; it's also a visual and olfactory feast, making it an exceptional choice for any occasion.
Denomination: Franciacorta DOCG
Vintage: NV
Dosage: Brut
Grapes: Pinot Noir and Chardonnay
Region: Lombardy (IT), Capriolo (BS)
Refinement: 36 months
Serving temperature: 4/6°C
Alcohol content: 12.5% ​​vol.
Located in Capriolo, in the province of Brescia, Ricci Curbastro is one of the most historic and renowned companies in Franciacorta. The current estate, now run by the 17th generation of the family, was founded way back in 1895 and today covers 27 hectares of vineyards in Franciacorta of the total 32 owned. Attention to sustainability issues, particular attention to every detail during production and a continuous search for innovation in the cellar, make each bottle a surprising journey through history, tradition and the future.