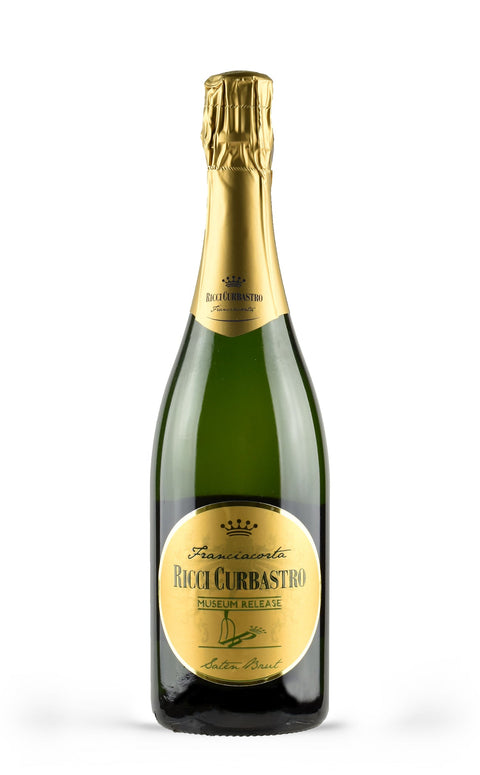 Franciacorta Museum Release Brut Metodo Classico DOCG 2006 - Ricci Curbastro
Refined Noble Complex
What do we mean by these definitions? Click HERE to find out!
Imagine yourself in an art gallery, where each painting is a masterpiece of colors and shapes. Now, imagine holding a glass of Franciacorta Museum Release Brut Metodo Classico DOCG 2006 by Ricci Curbastro. This wine is a liquid work of art that originates from the vineyards in Capriolo, Lombardy. The Ricci Curbastro family has a winemaking history dating back to the 14th century, and this wine is a testament to their craftsmanship. The sight is captivating, with a golden hue that captures light in a sublime way. On the nose, the wine is fine and expressive, with notes of citrus fruit, a hint of white peach, and some nuances of apple. This wine has been left on its lees for 8 years, imparting a complexity that is both refined and captivating. Ideal for an elegant dinner, it pairs beautifully with sophisticated fish dishes or aged cheeses. This is a wine that you do not just taste, but experience.
Denomination: Franciacorta DOCG
Vintage: 2006
Dosage: Brut
Grapes: Chardonnay, Pinot Blanc and Pinot Noir
Region: Lombardy (IT), Capriolo (BS)
Refinement: 90 months
Serving temperature: 4/6°C
Alcohol content: 12.5% ​​vol.
Located in Capriolo, in the province of Brescia, Ricci Curbastro is one of the most historic and renowned companies in Franciacorta. The current estate, now run by the 17th generation of the family, was founded way back in 1895 and today covers 27 hectares of vineyards in Franciacorta of the total 32 owned. Attention to sustainability issues, particular attention to every detail during production and a continuous search for innovation in the cellar, make each bottle a surprising journey through history, tradition and the future.