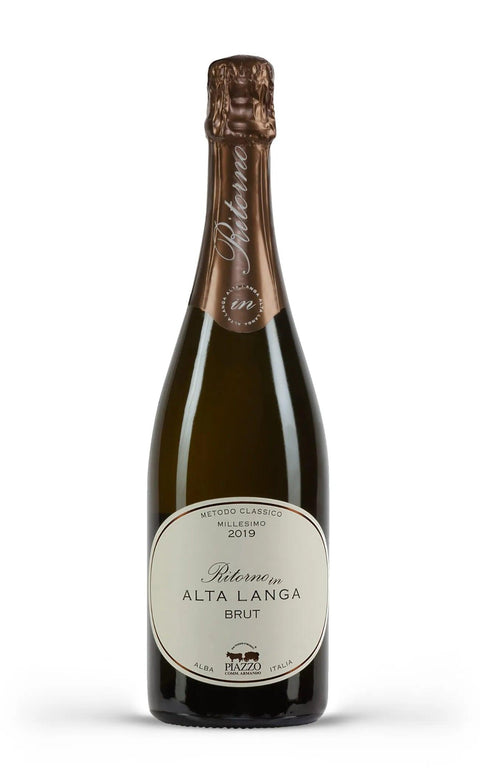 Piazzo - Metodo Classico Brut Ritorno in Alta Langa DOCG 2019
Creamy Elegant Noble
What do we mean by these definitions? Click HERE to find out!
Discover the Metodo Classico Brut Return in Alta Langa DOCG by Piazzo, a sparkling wine that celebrates Piedmontese roots and the elegance of Pinot Nero and Chardonnay. Produced in the hills of Alba, this vintage is a tribute to the winemaking tradition of the region. Its refinement is evident from the first sip: a symphony of flavors ranging from berries to delicate yeast notes, thanks to a maturation of 30 months on the lees. The perlage is fine and persistent, a detail that elevates every sip. The structure of this wine is like an enveloping hug, a perfect balance between acidity and freshness. Ideal for special occasions or as a companion to fish-based or white meat dishes. Let yourself be seduced by its discreet but unmistakable charm.
Denomination: Classic Method
Vintage: 2015
Dosage: Dry
Grape variety: Nebbiolo
Region: Piedmont (IT), Alba (CN)
Refinement: 30 months on the lees
Serving temperature: 4/6°C
Alcohol content: 13% vol
The Piazzo Comm. Armando winery was founded in the 1960s by Armando Piazzo and Gemma Veglia in San Rocco Seno d'Elvio, a hamlet in the municipality of Alba. To date, the company can count on 70 hectares of vineyards in the municipalities of Mango, Neviglie, Guarene and Novello. The winemaking philosophy respects tradition especially for the production of Barolo and Barbaresco but with particular attention to cleanliness and innovation. In the cellar, the effort is at its maximum to make the most of the raw material, fruit of the sacrifices and work carried out in the vineyard. The wines produced are the soul of the territory, they stand out for their perfumed bouquets on the nose, with great body and structure but balanced and elegant on the palate.