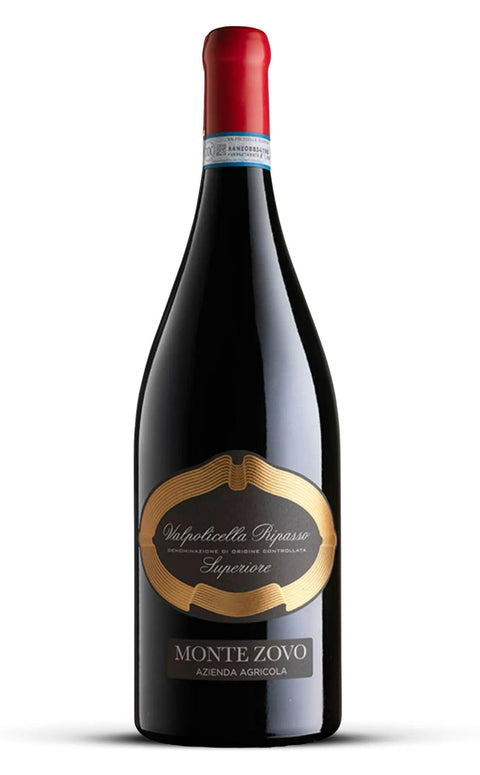 Valpolicella Ripasso Superiore DOC 2019 Magnum - Monte Zovo
Soft Complex Spicy
What do we mean by these definitions? Click HERE to find out!
The Valpolicella Ripasso Superiore DOC 2019 by Monte Zovo is a wine that enchants and seduces from the very first sip. Produced in Veneto, Italy, this wine is a true oenological gem distinguished by its complexity and depth. The "Ripasso" technique is used to enrich the wine, giving it a more robust and intense structure.

Visually, the wine presents itself with a deep ruby red color. On the nose, it offers a rich and enveloping bouquet, with notes of chocolate, flowers, and plum, integrated with wild honey and smoky nuances. This olfactory complexity translates into an equally intriguing palate, where the flavors meld in perfect balance.

This wine is ideal for savoring on special occasions, perhaps in the company of gourmet pizza or grilled meats. Its versatility also makes it suitable as a meditation wine, for those moments when you wish to reflect and relax.
Denomination: Valpolicella Superiore DOC
Vintage: 2019
Dosage: Dry
Grapes: Corvina, Corvinone and Rondinella
Region: Veneto (IT), Caprino Veronese (VR)
Refinement: Barriques
Serving temperature: 16/18°C
Alcohol content: 14.5% vol.
The wines of Monte Zovo are the fruit of the work in the 140 hectares of vineyards owned by the Cottini family distributed in the Verona area for the production of Valpolicella, Lugana and Bardolino. Bio-sustainability and technology combined with passion and oenological technique give life to wines of absolute value; each with its own distinct character but all linked by the common pleasantness, elegance and structure.