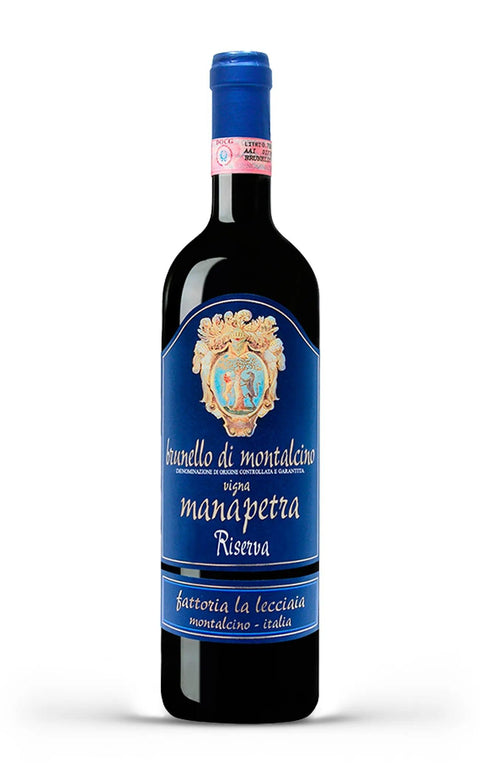 Brunello di Montalcino Vigna Manapetra Riserva DOCG 2015 - La Lecciaia
Complex Refined Elegant
Wine Spectator 93/100
James Suckling 93/100
Vinous 92/100
What do we mean by these definitions? Click HERE to find out!
The Brunello di Montalcino Vigna Manapetra Riserva DOCG from La Lecciaia captures the essence of Tuscany in every sip. Made exclusively from Sangiovese grapes from the Vigna Manapetra a single plot of vineyard embracing the winery. This wine is a masterpiece of balance and complexity. Its structure has been perfected through aging for three and a half years in large oak barrels, followed by at least four months in the bottle. On the nose, you'll find intense and characteristic aromas—a mix of red fruits and spices that evoke a sense of warmth and welcome. On the palate, the wine is dry, warm, and slightly tannic, with a robustness and harmony that make it irresistible. Ideal for pairing with game meats and aged cheeses, this Brunello is also an excellent meditation wine, perfect for those moments when you wish to reflect and relax.
Made from Sangiovese grapes grown in the prestigious Vigna Manapetra vineyard, this wine is a sublime example of winemaking mastery. Its complexity and structure have been expertly refined through a long aging process of three and a half years in high-quality oak barrels, followed by a further refinement in the bottle for at least four months. On the nose, it unveils an enveloping bouquet of ripe red fruits and exotic spices, evoking an atmosphere of warmth and hospitality. On the palate, the wine stands out for its elegance, with velvety tannins and a robustness that makes it absolutely irresistible. It is the ideal companion for game meats and aged cheeses, but it's also a meditation wine, perfect for moments of reflection and relaxation.
Denomination: Brunello di Montalcino Riserva DOCG
Vintage: 2015
Dosage: Dry
Grape variety: Sangiovese
Region: Tuscany (IT), Montalcino (SI)
Refinement: Oak barrels
Serving temperature: 16/18°C
Alcohol content: 14% vol.
Fattoria La Lecciaia was founded by Mauro Pacini in 1983 in Montalcino and covers 60 hectares, 15 of which are vineyards. At the beginning of the 2000s the family bought another property in Maremma in the Montecucco appellation, the company was then enriched by another 16 hectares of vineyards. The marvelous main cellar is always that of Montalcino set around the Manapetra vineyard from which the precious Cru produced by the company derives. The grapes are best valued thanks to careful and meticulous care during the vinification and the wine is subsequently embellished by years of aging in wood. The result is genuine wines that respect tradition with a modern imprint: structured reds with soft and velvety tannins over time, elegant fruity bouquets and remarkable and persistent palate.