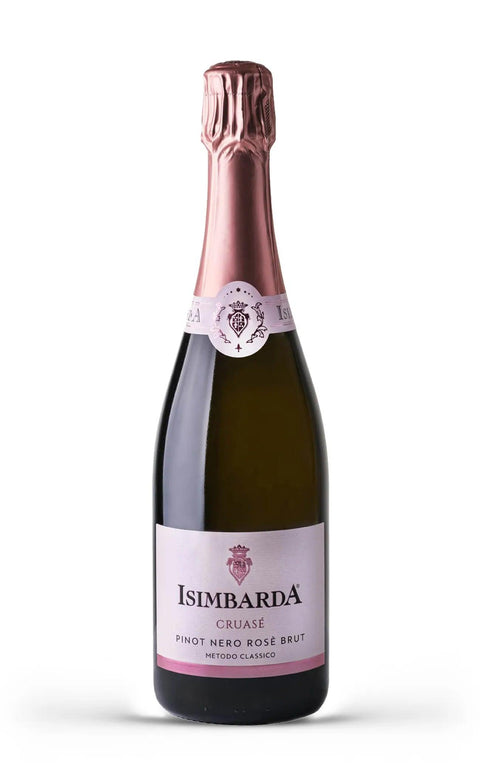 Oltrepò Pavese Rosè Cruasè Metodo Classico Brut DOCG - Isimbarda
Fragrant Floral Fruity
What do we mean by these definitions? Click HERE to find out!
The Oltrepò Pavese Rosè Cruasè Metodo Classico Brut DOCG by Isimbarda is an oenological jewel that embodies the elegance and complexity of Pinot Noir in an important and historical setting that is the OltrePò Pavese. Its color is an intense pink with orange nuances that capture the eye and invite you to taste it. On the nose, floral and fruity notes are perceived, a bouquet that evokes rose petals and berries. In the mouth, its effervescence is finely balanced, resulting in a wine with fine bubbles that is both lively and structured thus managing to maintain its freshness and authenticity. Ideal for a toast on special occasions or as a companion to fish-based dishes or light appetizers.
Denomination: Oltrepò Pavese Pinot Noir DOCG
Vintage: NV
Dosage: Brut
Grape variety: Pinot Noir
Region: Lombardy (IT), Santa Giuletta (PV)
Refinement: 24 months on the lees
Serving temperature: 4/6°C
Alcohol content: 12% vol.
The Isimbarda winery owes its name to the ancient family of the Marquises Isimbardi, feudal lords of the Santa Giulietta estate in the 17th century. The cellar is located in Casteggio in Oltrepo' Pavese and covers 36 hectares with vineyards in the municipalities of Santa Giulietta and Mornico Losana. The company production is varied and ranges from Riesling Renano to the vinification of Pinot Noir, Bonarda and Barbera up to the Oltrepo' Pavese Classic Method. The Isimbarda Company is undergoing a biological conversion and its objective is to allow its wines to best express the character and quality of the Oltrepo' Pavese area.