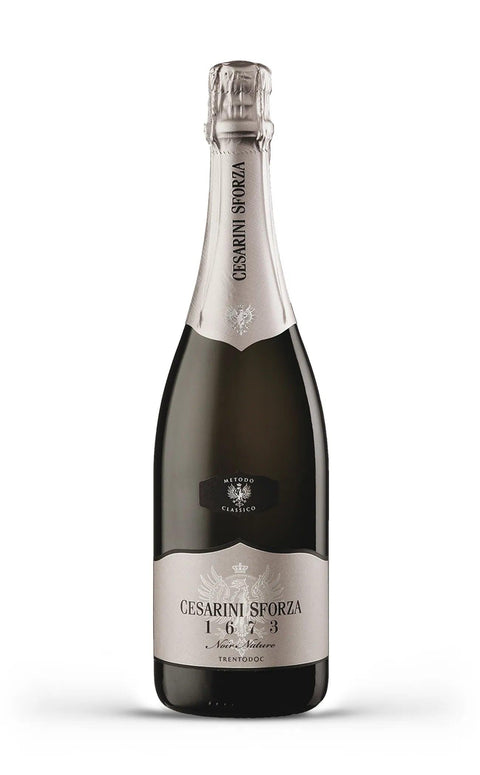 Trento DOC 1673 Noir Nature 2015 - Cesarini Sforza
Exuberant Creamy Complex
What do we mean by these definitions? Click HERE to find out!
Immerse yourself in the unique wine experience offered by Trento DOC 1673 Noir Nature from Cesarini Sforza. Made exclusively from Pinot Noir grapes from the Cembra Valley, this classic method sparkling wine is an ode to elegance and grit. The terroir of origin, located between 500 and 600 meters above sea level, gives the wine a structure as solid as a historic building. The sandy-loam soil is the cradle in which this divine nectar is born. On the nose, the bouquet is a riot of exotic fruit, enriched by notes of lemon and almond. In the mouth, its vertical structure and balanced body make it a wine of rare complexity. Ideal for special occasions, it pairs beautifully with fish dishes and aged cheeses. Allow yourself to be seduced by its timeless elegance and discover the pleasure of an authentic wine.
Denomination: Trento DOC
Vintage: 2015
Dosage: Zero
Grape variety: Pinot Noir
Region: Trentino Alto Adige (IT), Trento (TN)
Refinement: 48 months on the lees
Serving temperature: 4/6°C
Alcohol content: 12.5% ​​vol.
Cesarini Sforza was born in 1974 when Lamberto Cesarini Sforza founded the homonymous winery with the aim of producing high quality Classic Method sparkling wines.
In just a few years he was able to select excellent vineyards of Chardonnay and Pinot Noir grapes and to enhance the winemaking systems, obtaining great results right away.
The territory that gives rise to the Trento Doc is a splendid mosaic of vineyards in the most suitable areas of Trentino. Elegant productions from the upper Cembra Valley are combined with the complexity of the Meano and Cortesano grapes; balanced productions of Sorni and Pressano combined with the characteristic vineyards of the Besagno hills.
Soils, altitudes and uneven microclimates allow the wines to achieve a marked characterization and the maximum expression of quality.