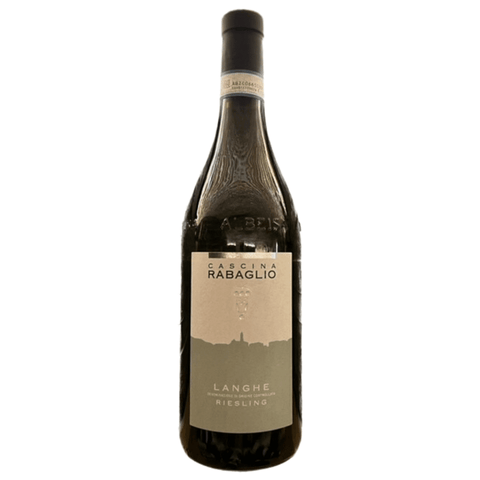 Riesling Langhe DOC 2019 - Cascina Rabaglio
Refined Mineral Elegant
What do we mean by these definitions? Click HERE to find out!
Discover Cascina Rabaglio's Riesling Langhe DOC, a white wine that embodies the essence of Piedmont, specifically the Barbaresco region. Produced from Riesling interely, this wine is a hymn to tradition and innovation. Aged in steel, its olfactory profile is a journey through citrusy notes that, over time, evolve into a more complex and captivating bouquet. On the palate, balance is the watchword: a structure that resembles the robustness of a well-constructed wine, without being overly alcoholic. Ideal to be served at a temperature of 8-10°C, it is the perfect companion for a variety of dishes, from light appetizers to fish dishes. Allow yourself to be seduced by its elegance and complexity, and discover why Cascina Rabaglio's Riesling Langhe DOC is more than just a wine: it's an experience.
Denomination: Langhe DOC
Vintage: 2019
Dosage: Dry
Grape variety: Riesling
Region: Piedmont (IT), Barbaresco (CN)
Aging: Steel
Serving temperature: 8/10°C
Alcohol content: 12% vol.
The history of Cantina Rabaglio begins in 2005, led by three young visionaries: L'Enot. Filippo Rigo, his sister Daniela and Andrea Salatin. These bold boys decide to follow in the footsteps of their grandfather Giovanni Battista, a skilled hazelnut and grape grower. In 2012, the wine joins the excellent production of hazelnuts and grapes.
The name "Cascina Rabaglio" is a tribute to the village of the same name located on the outskirts of Alba, the famous city of the white truffle. It is here that the grandfather of brothers Filippo and Daniela's business was born. The vineyards extend across the picturesque towns of Alba, Treiso and Neive. High quality grape varieties are grown here, including Nebbiolo, the source of the renowned Nebbiolo d'Alba and the elegant Barbaresco. Furthermore, Dolcetto and Barbera thrive, resulting in wines of the same name, as do the refined Langhe Arneis and the delicate Langhe Riesling.