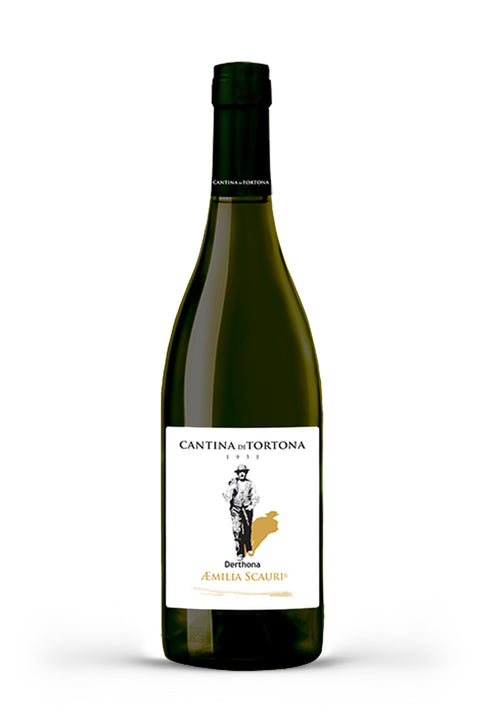 Timorasso Riserva Colli Tortonesi DOC Aemilia Scauri 2019 - Cantina di Tortona
Complex Savory Noble
What do we mean by these definitions? Click HERE to find out!
Immerse yourself in the sensory experience offered by Timorasso Riserva Colli Tortonesi DOC Aemilia Scauri, one of the sparkling gems of Cantina di Tortona. This white wine is an ode to the winemaking tradition of Piedmont, a region that has always celebrated quality and authenticity. Cantina di Tortona, founded in 1931, has dedicated decades to perfecting this wine, earning it the prestigious DOC recognition.
Visually, the wine presents itself with an intense straw-yellow color. On the nose, you will notice an aromatic bouquet of exotic fruit and white-pulp fruit, a prelude to the complexity that awaits you, then balsamic and sapid notes appear on the palate, the wine is enveloping and harmonious, with a freshness and persistence that will accompany you on a journey through the hills of Piedmont. The structure of this wine is comparable to a well-constructed building, solid but never overwhelming.
The ideal pairings include fish dishes, aged cheeses, and white meats. Allow yourself to be seduced by its elegance and its history, a tale that begins with the sun, the wind, and the earth of these enchanting hills. Discover the pleasure of a wine that is not just a product, but an experience.
Denomination: Colli Tortonesi DOC Riserva
Vintage: 2019
Dosage: Dry
Grape variety: Timorasso
Region: Piedmont (IT), Tortona (AL)
Refinement: Steel
Serving temperature: 6/8°C
Alcohol content: 14.5% vol.
The winery has a long and significant history that began in 1931 when a group of thirty-eight vineyard owners, who owned medium and large-sized companies, founded the winery and built its first building. The founders were farmers from various municipalities in the Tortonese area, with Enot. Romolo Vimercati as the direct architect of the foundation. Starting from the 1960s, the winery has dedicated its strength and prestige to obtaining recognition for the quality of local wine through the controlled designation of origin (DOC). The production of wines of excellent quality has always been a priority in the long history of the winery and can be pursued with even greater rigor and awareness. The microclimate of the Colli Tortonesi denomination area, in the southeast of Piedmont, along with the extraordinary vocation of the soils for the production of high-quality wines, have created a harmony that is reflected in the DERTHONA TIMORASSO, BARBERA, CROATINA, and CORTESE wines.Every sip of wine tells the story of the sun, the wind,